And, of course men know best about everything, except what women know better.
I oktober startede Bookworm's Bookclub officielt. Og vi lagde hårdt ud med George Eliots store klassiker Middlemarch. Plusbog var så flinke at sponsorere et eksemplar af moppedrengen til en heldig læser og medlem af bogklubben.
Og da vi nåede oktober vendte vi i fællesskab den første side …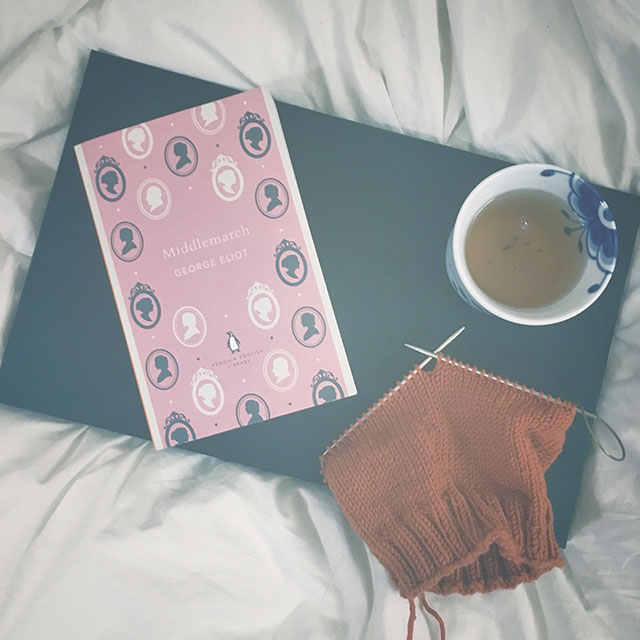 Jeg tror, at vi alle var udfordrede fra starten. Middlemarch er for den ambitiøse læser med spandevis af tålmodighed. Udover at være meget lang, er den også lidt tung i starten. En del af medlemmerne hoppede fra og endnu flere kom aldrig i gang. Men vi var en håndfuld, der standhaftigt hængte i. Og det er mit indtryk, at de fleste var glade for, at de gav den en chance. Den udvikler sig nemlig til at blive en meget gribende,
og humoristisk historie med nogle skønne personligheder blandt siderne.
Her er nogle af bogklubbens reaktioner på bogen:
Det tog sin tid men en nydelse at læse om en tid med helt anderledes livsvilkår end vores.
Er det kun mig der føler jeg er kommet lidt på arbejde med bogen ???
Den var svær at komme i gang med, men pludselig gik det bare derudad. Meget anderledes end det jeg plejer at læse, men synes faktisk det er en god bog.
Jeg synes også den har været lidt tung i forhold til sprog og mange referencer som jeg ikke kender. Har også døjet lidt med at holde styr på personer.
Jeg kan godt lide tidsbilledet og sproget. Jeg bliver irriteret over kvindernes rolle. Men det er jo tiden!
Jeg er ca. en fjerdedel inde i 'Middlemarch' og er nået et punkt, hvor jeg virkelig nyder den. Jeg nyder især at læse om Dorothea Brooke og hendes ægteskab!
Den er ikke let, men jeg nyder den alligevel (lytter til den engelske lydbog)
Jeg kunne bedst lide de små historier og dilemmaer mellem personerne i bogen. Der bliver stillet mange dilemmaer op som man kan tænke lidt over. Samtidig synes jeg at det var sjovt at læse om kvindesynet som fik mig til at smile mange gange.
Da de standhaftige læsere var ved at have vendt den sidste side, delte de deres mening om bogen i et spørgeskema. Jeg har samlet vores vurdering nedenfor. En sjov ting: selvom mange hoppede fra, fordi bogen er tung og lang tid om at komme i gang, er det parameteren 'gribende plot' der scorer højest blandt dem, der har læst den færdig!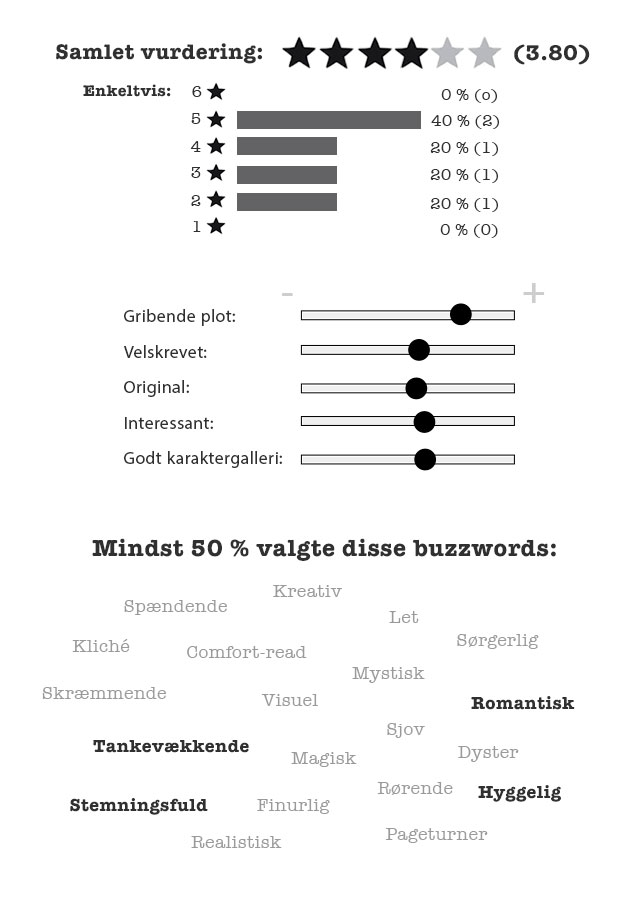 Endnu en gang tak til Plusbog for at forkæle en af læserne med et eksemplar af Middlemarch – you rock!
What do we live for, if it is not to make life less difficult for each other?
Novembers læsning i Bookworm's Bookclub var Vi kunne Alt og i december læser vi Hazel Wood. Januars læsning bliver snart annonceret med en skøn give-away.
Du kan deltage i Bookworm's Bookclub i vores facebook-gruppe, ved at kommentere her på bloggen eller ved at bruge hashtagget #BookwormsBookclubDK på Instagram.