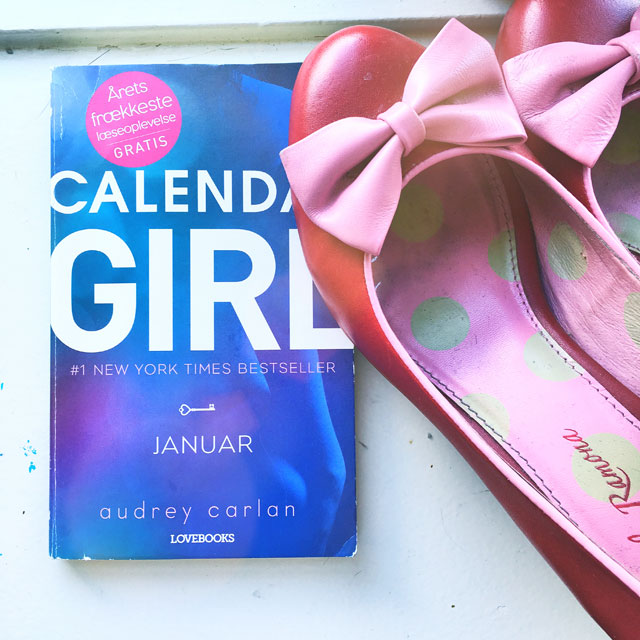 Titel: Calendar Girl
Forfatter: Audrey Carlan
Først udgivet: 2015
Jeg vil anbefale bogen til: Dig, der er vild med Fifty Shades of Grey
Sådan starter den: Ægte kærlighed findes ikke.
1 af 5 stjerner
Mia Saunders har travlt med at skaffe en ordentlig stak penge (nøjagtig 1 million dollars) for at betale sin fars gæld. Ellers bliver Mia, faderen (som ligger i koma) og søsteren alle sammen slået ihjel. Så Mia bliver escortpige, og er så heldig, at blive booket hele måneder ad gangen, så hun kan nå at betale sin fars gæld efter præcis et år. Hun må selv om, om hun har sex med dem, men det er ikke det hun bliver betalt for. I 'Calendar Girl Januar' skal Mia hjælpe en rig surfer dude med at holde gold diggers på afstand, så han kan koncentrere sig om sit arbejde. Og så skal hun også bo hos ham. Hvorfor forstod jeg ikke helt.
Jeg har læst mange dårlige bøger, men den her tog prisen som noget af det dummeste jeg længe har læst. Plottet er tyndt og urealistisk, men de ville i og for sig være ligegyldigt, hvis historien var gribende og velskrevet. Det var så ikke tilfældet.
Hvor skal jeg starte …
Lad os prøve med Mia. Forfærdelig selvfed hovedperson. Hun bliver ved med at indirekte rose sig selv til et punkt, hvor det nærmest er komisk. Fx roser hun sin veninde til skyerne, og slutter af med at sige:
Det var det, der gjorde hende speciel. Hun sagde tingene som de var … altid. Fuldstændigt ligesom mig selv.
Og senere beskriver Mia hvor smuk hendes moster er, for så at tilføje, at de ligner hinanden på en prik. Og så er hun fantastisk til at give gode råd til andre. Da hun møder en kvinde, der er trist fordi hun savner sit gamle job, hvor hun arbejde med børn, foreslår Mia, at hun kunne begynde at arbejde med børn igen – eller selv få børn! Jamen altså, hun burde blive livs coach, hende Mia dér! Men hun skulle nok lige en tur forbi en psykolog først – hendes far er i koma og en gangster truer Mia og søsteren på livet, og Mia er på ingen måde mærket af det. Tværtimod er hun oppe og køre over sin nye garderobe.
Bogen er fyldt med fejl. Stavefejl, trykfejl og deciderede fejl. Fx da surfer dude sender hende en sms med information om hvor og hvornår de skal mødes, tager hun fat i sin iPhone for at finde vej. Nej, kære Audrey Carlan, hvis hun lige har læst en sms skal hun ikke til at finde sin iPhone frem, så har hun den allerede i hånden! Og så er der denne her:
Hun kyssede ham blidt og rystede på hovedet. "Ja, det er fint. Meget fint."
Prøv selv at ryste på hovedet imens du siger 'ja'. Det er fysisk modstridende. Om det er en fejl fra forfatterens side, eller en fejl i oversættelsen skal jeg ikke kunne sige. Men dumt er det.
Og så er bogen dræbende kedelig. Det er næsten det værste.
---
In English
Mia Saunders is struggling to make a pile of money (one million dollars to be exact) in order to pay her father's debts. If she can't, the entire family will be murdered. So Mia becomes an escort girl. In January, she helps a rich surfer dude to keep the gold diggers at bay, so he can concentrate on his work. And she has to live with him. Why exactly is still beyond me. Read more.