You can't erase history, or change it. It would be like destroying yourself.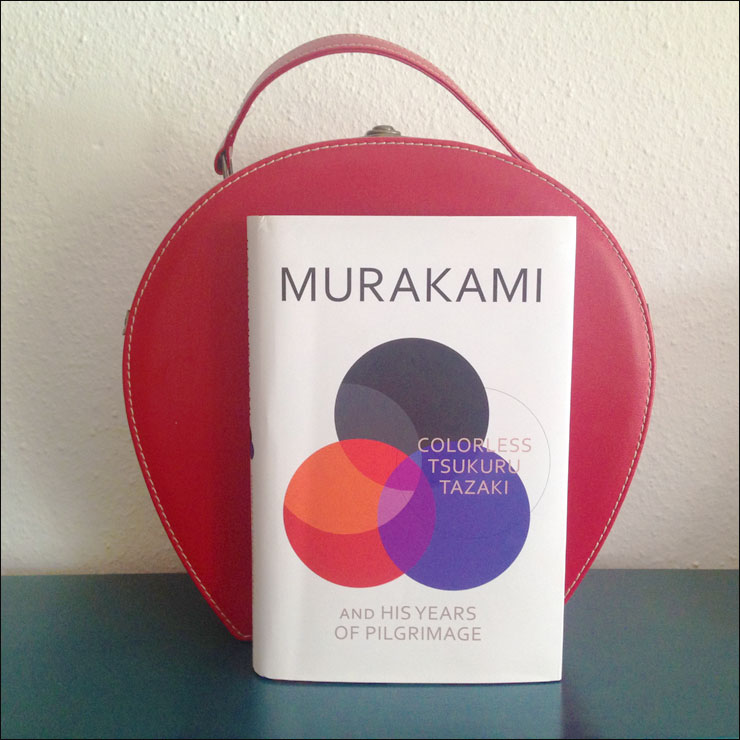 Title: Colorless Tsukuru Tazaki and His Years of Pilgrimage
Author: Haruki Murakami
First Published: 2014
My Rating: 4 of 5 stars (average rating on Goodreads: 3.84)
The Beginning: From July of his sophomore year in college until the following January, all Tsukuru Tazaki could think about was dying.
Colorless Tsukuru Tazaki was a beautiful and twisted story. To me, it was about loneliness and about how people have the power to change other people's lives for better and for worse. And then it was about a billion other things that I can't explain even to myself, as is always the case in Murakami's twisted worlds. When reading Murakami, I always see these little dots that I just can't connect. There are so many amazing parallels in his stories, but try as I might, I can't break the code. I sense that there's something larger at hand, but I can't see it. That's an amazing feeling.
Tsukuru Tazaki is part of a group of friends who one day out of the blue declares that they won't have anything to do with him anymore. This almost kills him. It affects his relationships in the years to come, but he never tells anyone about what happened and he never asks for an explanation. Then he starts dating Sara who makes him spill the beans. She asks him to confront his old friends, makes him see that it's necessary if he ever wants to be able to have a close relationship – with her at least.
Maybe I am fated to always be alone, Tsukuru found himself thinking. People came to him, but in the end they always left. They came, seeking something, but either they couldn't find it, or were unhappy with what they found (or else they were disappointed or angry), and then they left. One day, without warning, they vanished, with no explanation, no word of farewell. Like a silent hatchet had sliced the ties between them, ties through which warm blood still flowed, along with a quiet pulse.
The story touched me deeply and the plot line broke my heart before I had even started reading the book. It was an amazing story, but brutally short. Murakami's last novel, 1Q84, was freakishly long, so a mere 298 pages was a bit of a shock. And I felt it should have been longer. I wasn't at all done with the story after turning the last page.
It was almost a 5-star read. Most of the time it felt like a 5-star read. But some teeny tiny details made it a 4.8, and that makes all the difference. There were small parts I didn't find interesting. There were too many details about other characters' jobs. Some of them were interesting and relevant to the plot, but some of them weren't (or I just couldn't see it … that may very well be the case). It was only a couple of pages here and there, perhaps 10-12 pages in total, but it was enough to ruin the feel of a 5-star read.
Another thing that really bothered me was the sloppy translation. There were several mistakes in the translation and that pissed me off. This is Murakami's new novel for Christ's sake, you don't rush the translation! It's unforgivable. I know it's not Murakami's fault, but it ruined my reading flow. I could be completely engrossed in the story line only to have an error yank me out of it. The beauty of reading is to forget about the world and succumb to another. Mistakes in grammar pull you back into the real world.