This blog post is in Danish, as the book I'm reviewing is also in Danish. I'll be back with a regular post in English soon.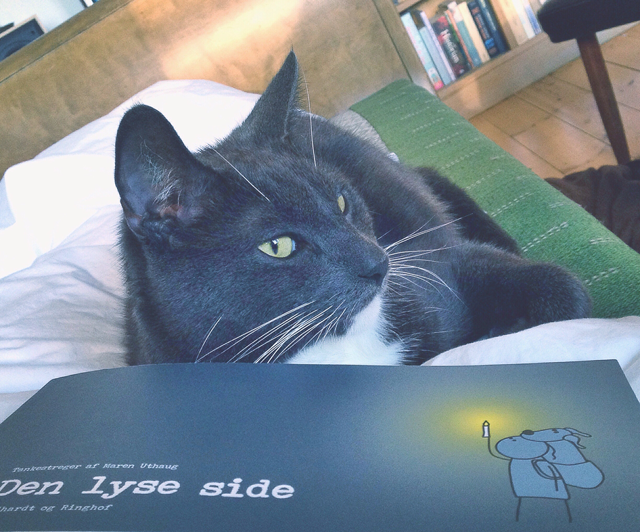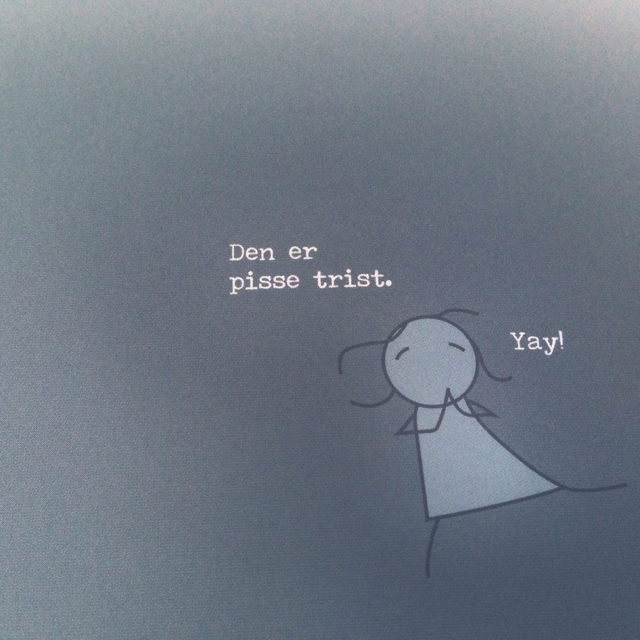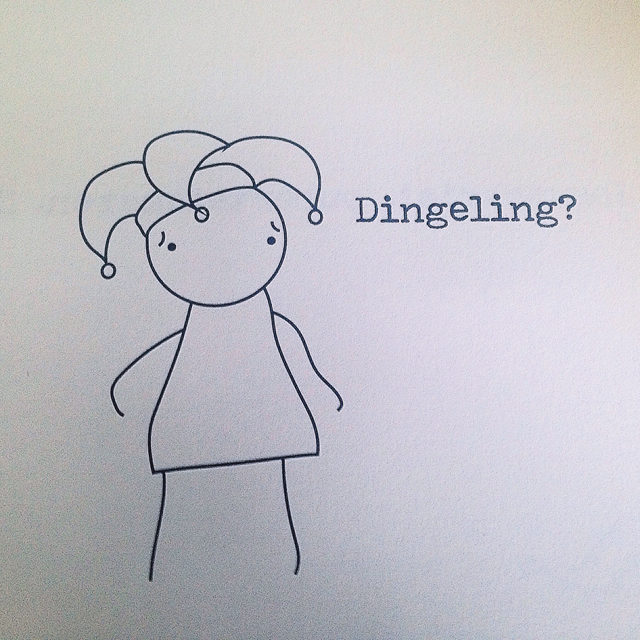 Anmeldereksemplar
Titel: Den Lyse Side
Forfatter: Maren Uthaug
Udgivelsesår: 2014
Min bedømmelse: 4 af 5 stjerner
Jeg vil anbefale bogen til: Alle, der har 20 minutter til at godt grin og en sjat triste tanker.
Den Lyse Side viste sig at være en vidunderlig lille overraskelse. Jeg havde ingen forventninger til den, men blev opslugt på få sekunder. Jeg skulle egentlig bare lige bladre lidt i den inden jeg satte varer på plads, men den ene side tog den anden og pludselig var der gået 20 minutter og der var ikke flere sider tilbage.
Tegningerne er utroligt søde – jeg er helt vild med tegnestilen. Til at starte med syntes jeg, at fortællingen var lidt flyvsk. Vi roterer rundt mellem følelsen af ensomhed, det at blive voksen og hvordan det er at være mor til tre. Men emnerne passede egentlig meget godt sammen som en status på, hvordan det er at skulle forestille sig at være voksen, ansvarsfuld og have tjek på det hele. Især tankerne om ensomhed rørte mig.
Du har søde børn, skøn mand, du har søde venner, du har læsere på din blog, du har en hund, en kanin og en kat, der hedder Fjæs. Hvordan kan DU være ensom?
Jeg kan heldigvis ikke identificere mig selv med denne følelse af ensomhed. Bortset fra en kort overgang, hvor jeg var i et dårligt forhold, har jeg heldigvis aldrig følt mig ensom. Det må være rædselsfuldt at have det sådan som Maren beskriver i sine tankestreger. Nu kommer den til at lyde meget trist, og der står da også på bagsiden, at den er 'pisse trist'. Og ja, den er fyldt med triste tanker, men de bliver vævet ind i en ordentlig portion humor og sarkasme.
Jeg er fx helt vild med denne lille gif, der illustrerer, hvor hun sammenligner, hvordan hun har modtaget uventede gæster da hun var i 20'erne, 30'erne og 40'erne. Jeg grinede især, fordi det gik op for mig, at fra da jeg var i 20'erne har modtaget uventede gæster på samme måde som hun gør i 40'erne 😀 Uventede gæster er nederen. Med mindre de har rigtig meget slik med.
Hvordan har du det med uventede gæster?