En fænomenal roman om hævn, bitterhed og vanvid – og så er det en genfortælling af Shakespeares 'The Tempest'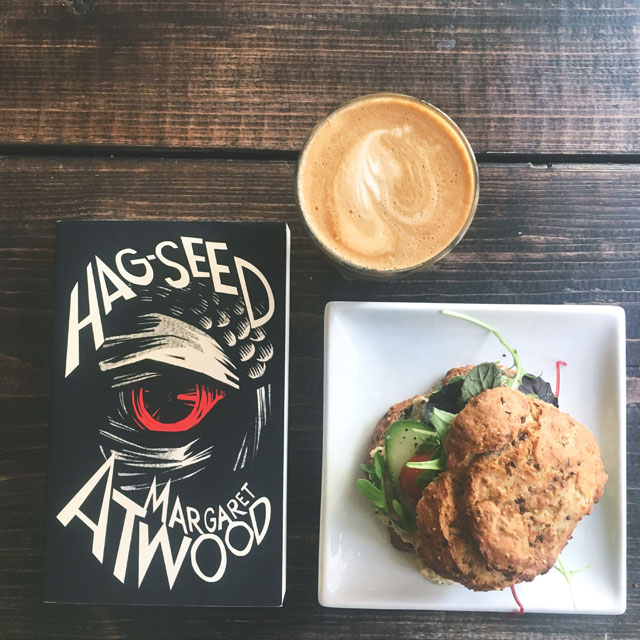 Titel: Hag-Seed
Forfatter: Margaret Atwood
Først udgivet: 2016
Jeg vil anbefale bogen til: Atwood og Shakespear fans – og alle, der interesserer sig for teater.
Sådan starter den: The house lights dim.
4 af 5 stjerner
Felix er blevet stukket i ryggen af sin makker og mister sit arbejde ved teatret. Han forsvinder tilsyneladende fra jordens overflade, men i virkeligheden arbejder han med teater i et fængsel. Alt sammen en del af hans store plan om hævn. Årene går til han når det helt rette tidspunkt …
'Hag-Seed' er en genfortælling af Shakespeares skuespil 'The Tempest'. Det er aldrig til at vide, hvordan disse genfortællinger fungerer. Denne var ufattelig vellykket – man går jo sjældent galt i byen med Atwood. Jeg var underholdt og fascineret hele vejen igennem. Det er en ufattelig velskrevet og humoristisk roman, der gav mig en indsigt i et Shakespeare-stykke som jeg ikke kendte så meget til i forvejen.
What could Felix possibly be suspected of smuggling, a harmless old thespian like him? It's the words that should concern you, he thinks at them. That's the real danger. Words don't show up on scanners.
Persongalleriet virkede ægte og nuancerede. Felix var en genial, selvoptaget og vanvittig karakter. Hans samtaler med hans afdøde datter var hjerteskærende, hans håndtering af fangerne var fantastisk, og jeg elskede den måde han kunne sno folk om sin lillefinger. Det er længe siden jeg har nydt en bog så meget.