Books had never led me in the wrong direction.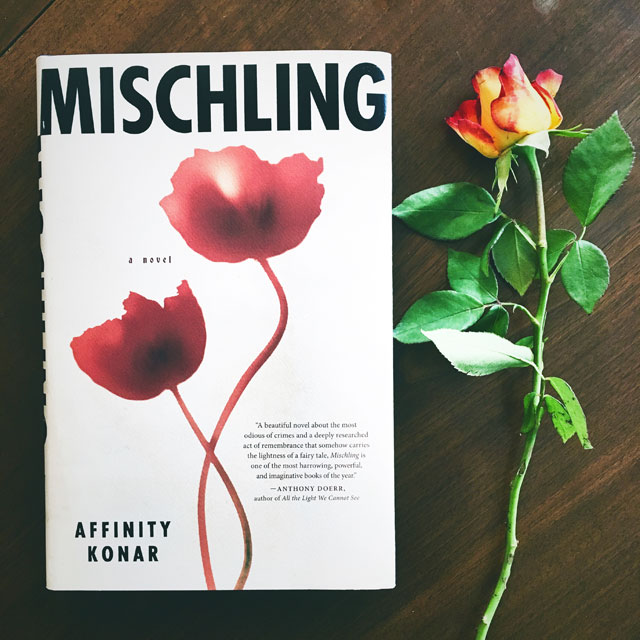 Titel: Mischling
Forfatter: Affinity Konar
Først udgivet: 2016
Jeg vil anbefale bogen til: Alle, der interesserer sig for litteratur om 2. verdenskrig.
Sådan starter den: We were made, once.
3 af 5 stjerner
Tvillingerne Pearl og Stasha ankommer til Auschwitz. De bliver udvalgt som noget helt særligt til Mengeles Zoo, hvor ubeskrivelige rædsler, der får gaskammeret til at virke humant, venter dem. For at overleve, bliver Pearl ansvarlig for det triste, det gode og fortiden. Stasha skal så tage sig af det sjove, fremtiden og det slemme.
I could not say that such goodness was unlikely because I had never thought the cruelty of Auschwitz was possible either.
'Mischling' er ikke noget behagelig eller hyggelig roman. At læse den er ikke nogen rar rejse. Det er snarere som et uendeligt mareridt man ikke kan vågne op fra. Eller et kunstværk af et trafikuheld man ikke kan lade være med at kigge på. Det var faktisk en lettelse at vende den sidste side.
"I love you," I said into his shoulder. Peter stopped treading on my feet and cocked a half-closed eye at me in suspicion. "You don't. You could—I think—in time. But you're just saying that to me because you think you won't have a chance to say it truthfully someday, aren't you?" "Yes," I confessed. "I am."
Den er ufattelig velskrevet. Måske lidt for velskrevet. Hovedpersonerne er teenagere men den måde de udtrykker sig på svarer til deres alder. Deres ord og tanker lød ikke som teenagere, men snarere som en forfatter. Det skabte en underlig distance mellem mig og dem. Og dækkede måske over, at der egentlig ikke var det store plot. Det er forfærdeligt politisk ukorrekt at sige, men bogen var faktisk lidt kedelig. Og det burde den ikke have været. Alligevel ved jeg, at det er en bog jeg sent vil glemme. Det er et værk jeg med gysen vil tænke tilbage på, men ønske at glemme.