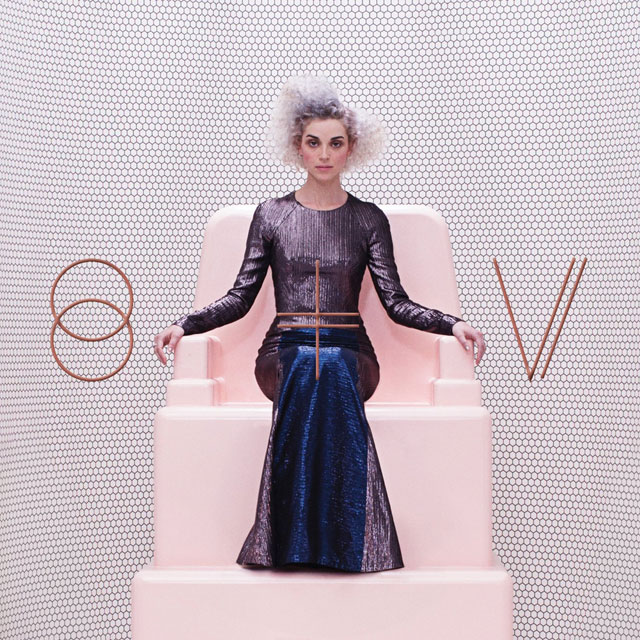 Jeg ved ikke, om det bare er mig, der er håbløst bagefter, men er faldet pladask for musikeren St. Vincent og hendes album af samme navn fra 2013. Hun er singer-songwriter, tidligere musikstuderende, har en stærk karakteristisk vokal, en ret cool lyd og edgy tekster. Jeg tror, at jeg har hørt albummet 'St. Vincent' op til 50 gange i min barsel, og tænker, at det altid vil minde mig om solskin og tur med barnevogn rundt om søerne. Det var netop på sådan en tur, jeg opdagede albummet. Jeg kendte singlen 'Digital Witness', og en dag med ekstrem søvnmangel, hvor jeg var for træt til lydbog, tjekkede jeg albummet ud i stedet. Bedste beslutning jeg har taget i lang tid.
Hun har udgivet flere albums, men har kun lyttet til et par stykker. Bl.a. 'Love This Giant' fra 2012 som hun indspillede sammen med David Byrne (som desværre ikke faldt i min smag) og 'Strange Mercy' fra 2011 som har et par guldkorn.
Her er nogle udpluk af hendes tekster fra albummet 'St. Vincent':
Fra 'Birth in Reverse':
Oh, what an ordinary day
Take out the garbage, masturbate
I'm still holding for the laugh
The dogs will bark so let them bark
The birds will cry I'll let them cry
Here's my report from the edge
Fra 'Prince Johnny':
Prince Johnny, you're kind but you're not simple
By now I think I know the difference
You wanna be a son of someone

Remember the time we went and snorted
That piece of the Berlin Wall that you'd extorted
And we had such a laugh of it
Prostrate on my carpet

You traced the Andes with your index
And bragged when and where and who
And who you gonna bed next
Fra 'Severed Crossed Fingers':
When your calling ain't calling back to you
I'll be side-stage mouthing lines for you
Humiliated by age, terrified of youth
I got hope but my hope isn't helping you

Wake up puddle-eyed, sleeping in the suit
The truth is ugly, well, I feel ugly too
We'll be heroes on every bar stool when
Seeing double beats not seeing one of you
Jeg håber, at jeg en dag får mulighed for at se hende live. At dømme ud fra denne video, ser hun ud til at være karismatisk på scenen – og hendes vokal holder live:
Hendes (så vidt jeg ved) eneste musikvideo:
God weekend!