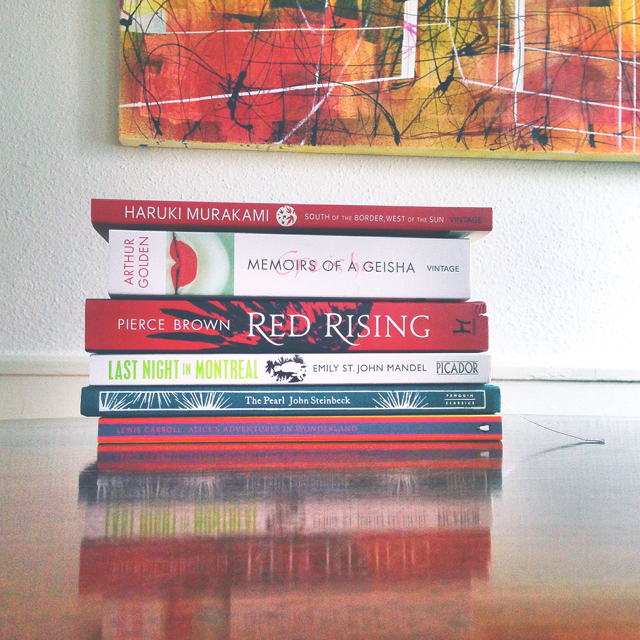 South of the Border, West of the Sun by Haruki Murakami
Because I love Murakami's work and I plan to read everything he's ever written (except perhaps Norwegian Wood). Most of his novels are total chunksters, so I couldn't resist this petite little thing. And I think my mother spoke warmly of it.
Memoirs of a Geisha by Arthur Golden
I've wanted to read this one for a long time and my expectations are very high. I imagine a story that will completely sweep me away and make me forget about everything else. So I might have set myself up for a huge disappointment. We'll see.
Red Rising by Pierce Brown
Red Rising has been described as Hunger Games meets Game of Thrones … on Mars … I don't know what to expect. Part of me has actually had enough of this genre – you know, a new YA series that claims to be the next Hunger Games (like Divergent), but something about this one made me want to give it a chance. 5 of my Goodreads friends have given it 5 stars, so that's promising.
Last Night in Montreal by Emily St. John Mandel
Because I loved her novel Station Eleven to pieces, I desperately need to read what else this author has up her sleeve.
The Pearl by John Steinbeck
Steinbeck is so cool. He's written some of my favorite books – and the most beautiful ending I've ever read. So when I read a review on Paperback Castles praising The Pearl, I ordered it right away.
Alice's Adventures in Wonderland by Lewis Caroll
I'm curious about this children's classic, although I've always associated it with a claustrophobic nightmare. But I'm a big girl now, so I'll give it a shot.
Have you read any of these books?