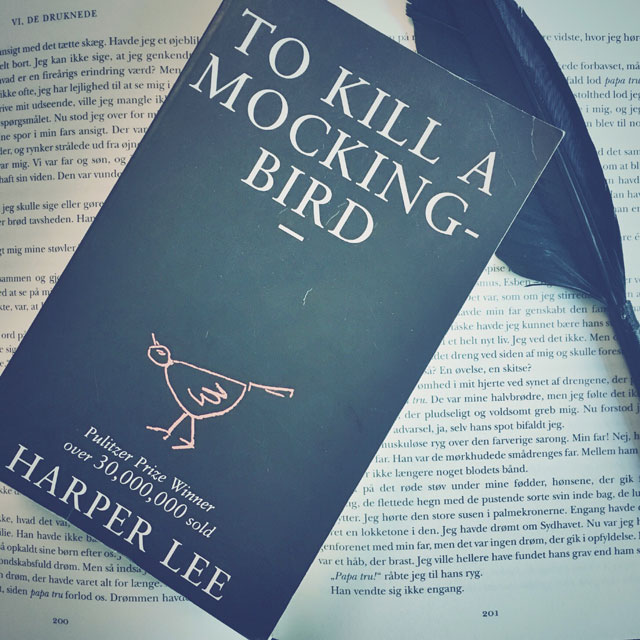 Titel: To Kill a Mockingbird
Forfatter: Harper Lee
Først udgivet: 1961
Antal sider: 309 (hørt på lydbog)
Sådan starter den: When he was nearly thirteen my brother Jem got his arm badly broken at the elbow.
4 af 5 stjerner
En pragtfuld klassiker om racisme, retssystemet og børns uskyld. Et must read!
Vi er i Sydstaterne i 50erne. Scouts far, Atticus, er forsvarsadvokat for en sort mand, der er anmeldt for voldtægt af en hvid pige. Vi følger sagen og det lille lokalsamfunds fordomme gennem Scouts øjne og ligefremme logik, der ofte går tabt i barndommen. En hjerteskærende historie om mod, fordomme og uskyld.
People generally see what they look for, and hear what they listen for.
Jeg lyttede til romanen med Mr. Boyfriend, og den var en genlæsning for mit vedkommende. Historien bygges meget langsomt op gennem et års tid, hvor vi introduceres for lokalbefolkningen og deres fordomme lidt ad gangen. For mig gik der for lang tid før plottet rigtig kom igang og det var først da retssagen gik i gang, at jeg følte mig grebet af romanen. Mr. Boyfriend havde det dog omvendt; han foretrak de små historier i begyndelsen fremfor den lange retssag.
You never really understand a person until you consider things from his point of view … Until you climb inside of his skin and walk around in it.