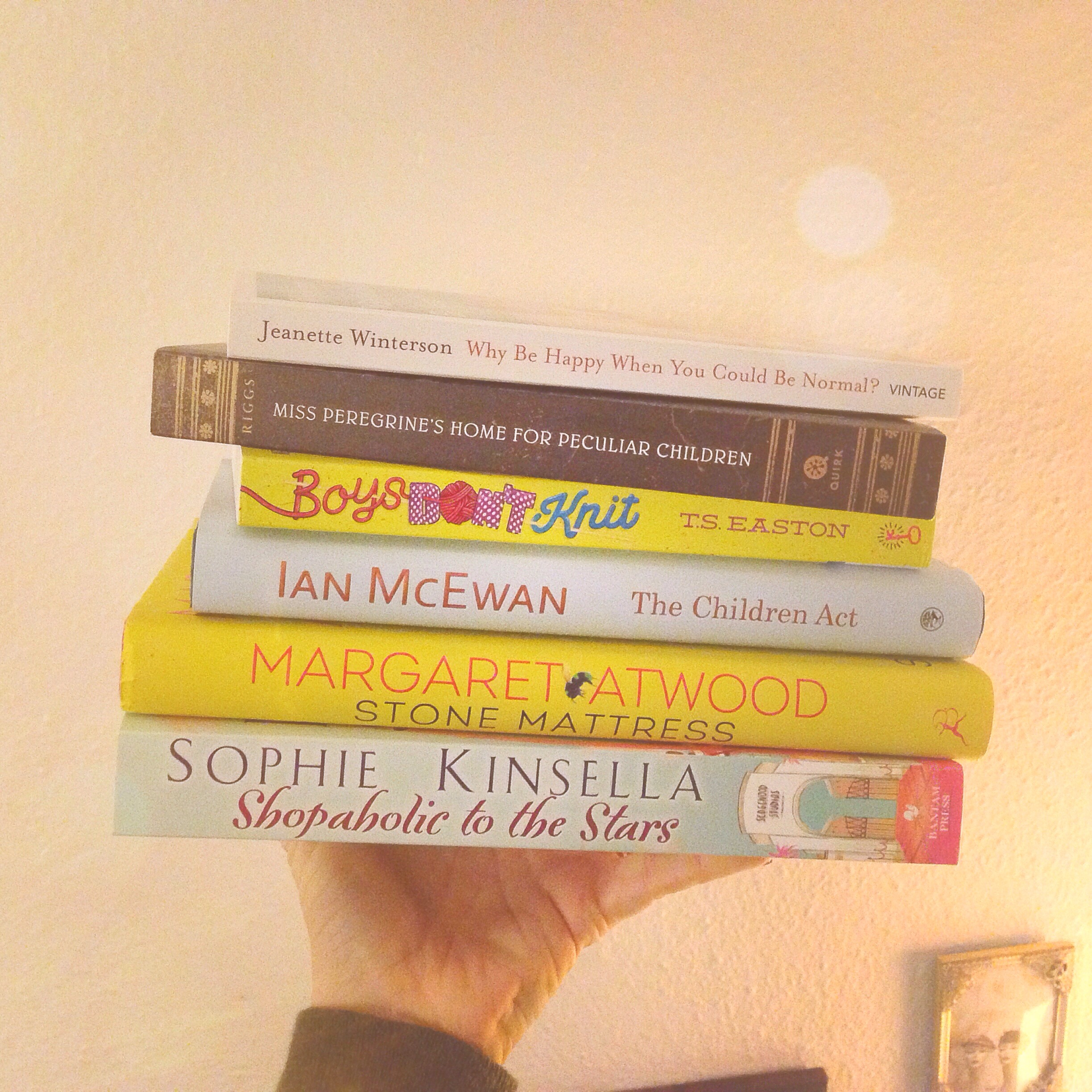 Yesterday I told the story of how an unattended bag was reason to the purchase of two lovely books. Today I'd like to show you the books I've bought after careful consideration and without panicking during the past month or so.
The one I'm most excited about is Atwood's 'Stone Mattress' which is a collection of nine tales. Usually I'm not into short stories (they're too short), but when my favorite author is behind the crime, I have no choice. I've already read it, and will post a review very soon – maybe tomorrow.
The next one is the new Shopaholic novel which I'm currently reading. I love this series, it's so much fun! 'Boys Don't Knit' is another very silly book that I'm really looking forward to. It's about a boy who accidentally joins a knitting club and gets hooked. Being an enthusiastic knitter, I couldn't resist.
Jeanette Winterson's 'Why be Happy when you could be Normal?' is 'the true story' behind her first novel, the semi-autobiographical 'Oranges are not the Only Fruit', which is nothing short of brilliant. If you haven't read it, cancel whatever you had planned for the weekend and go read it now.
Ian McEwan's new novel 'The Children Act' is a must on my to-read shelf – even though there are several of his novels out there I haven't read yet. I've heard so many good things about 'Miss Peregrine's Home for Peculiar Children' that I decided it was time to give it a go, even though I'm a bit skeptical about this one …
I'd actually made a book haul video where I talked about these books, but unfortunately the sound was really bad, so I won't post it 🙁 It's a shame because one of my cats decided to participate in the video and the cutest way ever! Anyway, I love watching book haul videos, and thought it was time to contribute, but technology just got in the way …
I hope you're enjoying this rainy Saturday – if you have any complaints about the weather, blame Mr. Boyfriend, as it's his birthday today.