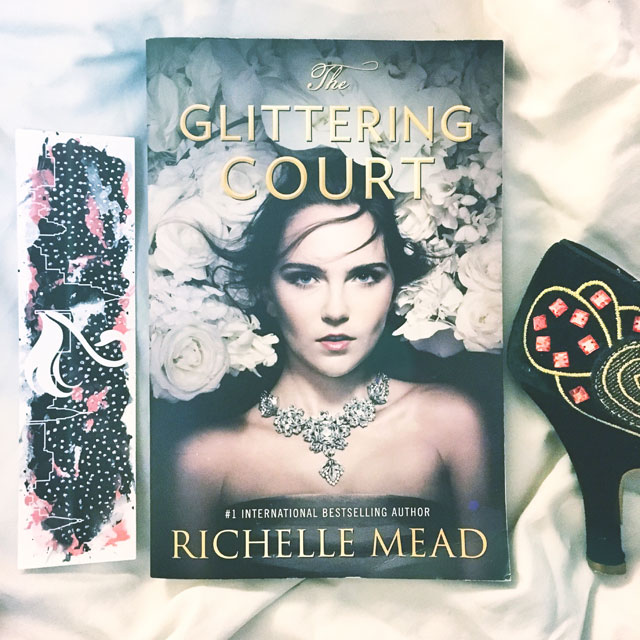 Titel: The Glittering Court
Forfatter: Richelle Mead
Først udgivet: 2016
Jeg vil anbefale bogen til: Læsere, der var vilde med The Selection
Sådan starter den: I'd never planned on stealing someone else's life.
2 af 5 stjerner
Adelaide er fra en fornem familie, der har mistet alle deres penge. For at undgå et uønsket ægteskab med en rig mand hun ikke bryder sig om, 'låner' hun sin stuepiges identitet. Hun bliver en del af 'the Glittering Court'. Et koncept, der træner fattige piger i at fremtræde som fine damer, så de kan blive solgt som hustruer til rige mænd i den nye verden. Her skal Adelaide lade som om hun er fattig som alle de andre piger og skjule, at undervisningen er piece of cake. Hun klarer sig fremragende og står til at blive solgt til en høj pris. Men så forelsker hun sig i den forkerte.
Jeg havde ikke forventet mig høj litterær kvalitet. Men jeg havde forventet at blive gevaldigt underholdt. Det var jo trods alt Richelle Meads (forfatter til Vampire Academy og Succubus-serien) nye roman jeg sad med mellem hænderne. Desværre var bogen frygtelig dum og dræbende kedsommelig. Der var simpelthen for mange ting, der ikke fungerede.
For det første er der vores hovedperson. Hun var en fantastisk kombination af dum og usympatisk. Hun vil undgå at gifte sig for penge. Så hun stikker af til Glittering Court – et koncept, hvor piger bliver gift for penge. Hun stikker af og forlader sin bedstemor uden et ord. Ikke engang en lille seddel, hvor der står, at hun er OK. Da en hun holder af har brug for penge, tilbyder hun fluks at male et falsk maleri og sælge det under en berømt kunstners navn. Uden det mindste hint af dårlig samvittighed overfor den, der bliver snydt. Jeg kunne blive ved …
Kærlighedshistorien er dødsyg. Der er intet boy-crush at komme efter her. Vores helt er lige så stupid og usympatisk som heltinden. Og så har han en mørk hemmelighed, der fuldstændigt falder til jorden. Han er religiøs, og kan godt lide at rende rundt i skoven og tænde lys. Så føler han sig bare mere som sig selv. Ikke det mest sexede …
Og så er der plottet. Jeg syntes egentlig, at selve Glittering Court delen var meget underholdende. På en air-head-Selection-agtig måde. Det var meget skægt at læse om, hvordan Adelaide måtte skjule sin rang og opdragelse, og gøre sig bevidst dårlig til fagene. Hvilket hun var ekstremt dårlig til. Jeg kunne også meget godt lide konceptet med 'den nye verden' – synes egentlig, at det var meget godt fundet på. Desværre var størstedelen af historien kedsommelig. Den sidste del af bogen var dræbende langsom at komme igennem og jeg følte bare, at det skulle overstås.