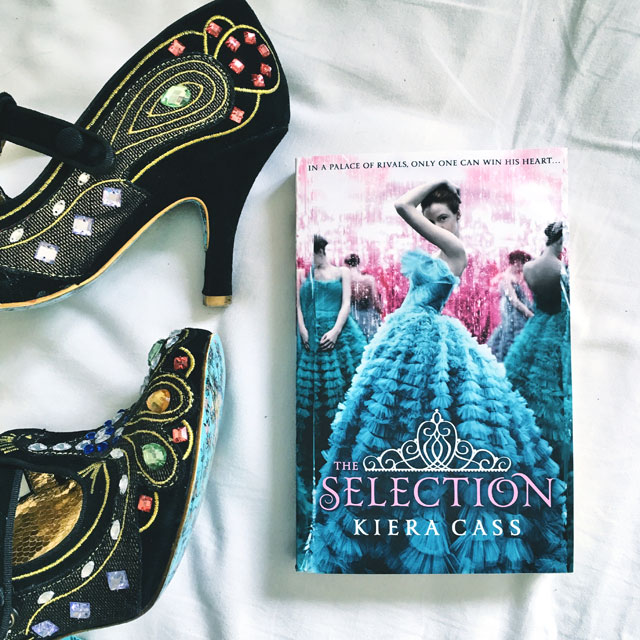 Titel: The Selection
Forfatter: Kiera Cass
Først udgivet: 2012
Jeg vil anbefale bogen til: dig, der trænger til en let page-turner. Og ikke går for meget op i detaljer.
3 af 5 stjerner
It's always the fear of looking stupid that stops you from being awesome.
'The Selection' er blevet beskrevet som 'Hunger Games' møder 'The Bachelor'. Det er egentlig en meget rammende beskrivelse; et dystopisk kastesamfund, hvor en flok piger i den fødedygtige alder på tværs af kaste inviteres til slottet for på skift at date prinsen. Kun én kan vinde hans kærlighed og blive dronning. Alle pigerne er helt vilde efter at vinde. Alle pånær én. Og denne ene pige er selvfølgelig vores heltinde, som er med i konkurrencen ved et tilfælde.
'The Selection' er på mange måder en ufattelig dum roman. Og frygtelig forudsigelig. Og ikke altid helt gennemtænkt. Vores heltinde, America Singer (ja, det hedder hun), er en 6'er, dvs. lav kaste. Hendes familie beskrives som fattig. Ja, der er mad på bordet hver dag, men ikke altid nok. Og alligevel har America sit eget værelse, familien har telefon og TV, og spiser altid popcorn, når de samles foran TV'et. Det hænger ikke helt sammen.
America er en heltinde vi har mødt 1.000 gange før. Imens de andre piger er vilde efter at vinde prinsens hjerte, er hun den eneste der tør 'være sig selv' (et udtryk, der bliver groft udnyttet i bogen). Det kan umuligt være en spoiler, at prinsen bliver fuldstændig forgabt i America selvom hun har opført sig ualmindelig stupidt; hun har råbt af ham, sparket ham i skridtet, beskyldt ham for at ville voldtage hende, erklæret sin kærlighed til en anden, fortalt detaljer om sin x og erklæret, at hun kun er med i konkurrencen ved en fejltagelse.
Og så får hun den fantastiske idé, at hun skal være hans ven og fortrolige – den eneste, der tør fortælle ham sandheden om de andre piger i konkurrencen. Prinsen synes, at det er en fantastisk idé og tilbyder hende, at hun kan få lov at blive i konkurrencen så længe hun vil, så hun ikke skal udsættes for at møde sin ekskæreste igen. Så flink er han.
Det er i bund og grund plottet. Ikke særlig originalt, men faktisk ufattelig underholdende. Jeg hyggede mig virkelig i dens selskab. Ja, jeg rullede med øjnene og sukkede dybt over dens klichéer, men jeg havde alligevel hele tiden lyst til at læse videre. Det var først henimod slutningen, at jeg begyndte at miste interessen, og da jeg havde vendt den sidste side, følte jeg absolut intet behov for at læse den næste i serien.
---
In English
'The Selection' is described as 'Hunger Games' meets 'The Bachelor'. It's actually a quite apt description. A dystopian future where citizens are divided into groups according to their caste. A bunch of girls across the groups are invited to compete for the prince's heart and the winner will become queen. All the girls are obviously quite desperate to win. All except one … Read more.