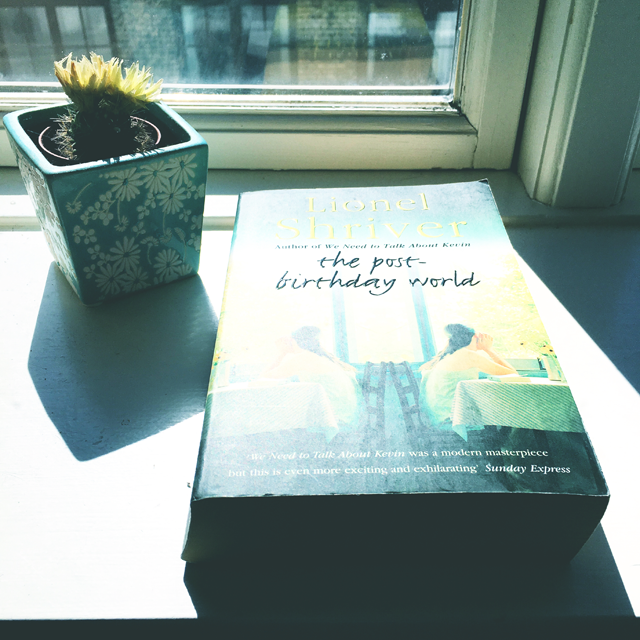 This review is also available in English
Titel: The Post-Birthday World
Forfatter: Lionel Shriver (forfatter til 'We Need to Talk About Kevin')
Først udgivet: 2007
Min bedømmelse: 2/5 stjerner
Irina er i et trygt forhold med Lawrence. En aften bliver hun pludselig tiltrukket af en af deres fælles venner, Ramsey, og her deler historien sig i to. I den ene version læner hun sig frem og kysser Ramsey, forelsker sig i ham og forlader Lawrence til fordel for Ramsey. I den anden version skynder hun sig hjem og er lettet over, at hun ikke gav efter. Vi følger sideløbende de to forskellige liv.
But perhaps instead she was doubly blessed, and her passion hadn't been divided in half, but multiplied by two.
Livet med Ramsey er vild og passioneret. Han er nærmest sygelig jaloux og de skændes over de særeste detaljer. De er voldsomt forelskede, turnerer verden rundt med hans job, frådser med penge, alkohol og cigaretter. Spørgsmålet er om begæret kan vare ved?
Livet med Lawrence er rutinepræget, trygt og ret kedeligt. Spørgsmålet er, om noget er sikkert?
Det var sjovt at læse de to parallelle historier, med ens scenarier der udspiller sig vidt forskelligt. Et pudsigt eksempel er en middag med Irinas veninde. I den version, hvor hun giver efter og kysser Ramsey, bebrejder veninden hende det og minder hende om, hvor god en mand Lawrence er. I den version, hvor hun lægger bånd på sig selv, beskylder veninden Lawrence for at være kedelig og siger, at han ville have godt af det, hvis Irina havde en affære.
Sometimes acting out of character was like breaking out of jail.
Fantastisk idé til en bog, men desværre ulideligt udført. Der var frygtelig mange ligegyldige detaljer med i bogen. Irina kunne ikke stige op i et tog, købe ind, spise en sandwich uden det blev beskrevet i detaljer side op og side ned. Og så skulle vi også lige have hendes forhold til togture, indkøb og sandwiches gennem hele liver beskrevet. Og Lawrences. Og Ramseys. Det var til tider ganske ulideligt. Det gjorde bogen ufattelig kedelig. Det var først da jeg nærmede mig slutningen, at den begyndte at blive bare en smule interessant.
… as if another life were running alongside this one, perhaps no better or worse but certainly different, and she liked to reach out and touch it from time to time, like dipping her hand into the river from a canoe.
Derudover blev alting overforklaret. Pointen i bogen er, at der ikke er et rigtigt eller et forkert valg i livet, og det bliver forklaret igen og igen. Det bliver forklaret i handlingen – først skåret ud i pap i den ene historie, så i den anden. Så skriver Irina en børnebog, hvor det bliver forklaret igen. Det sidste kapitel forklarer det så en gang til for at være sikker på, at alle er med. Og gudhjælpemig om forfatteren så ikke har et lille efterskift, hvor hun selv lige forklarer det hele en gang til. Hun skriver selv "No harm in spelling it out". Jo, der er skade i at tale ned til dine læsere, Lionel Shriver!