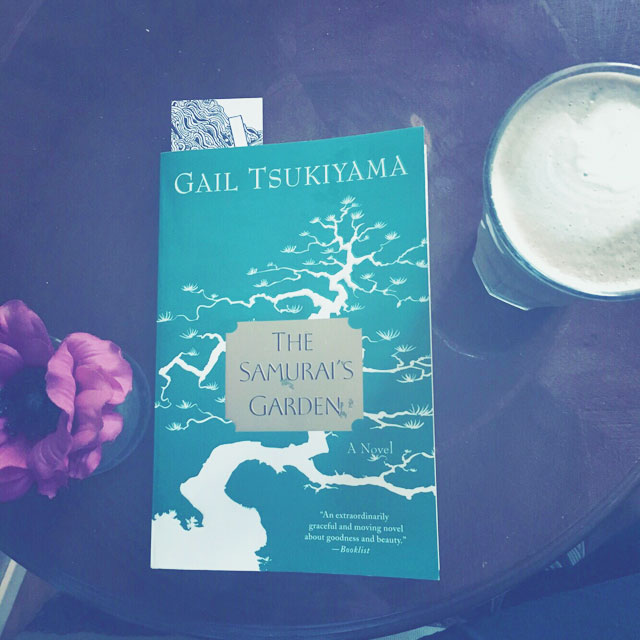 Titel: The Samurai's Garden
Forfatter: Gail Tsukiyama
Først udgivet: 1994
Antal sider: 211
Jeg vil anbefale bogen til: Den eftertænksomme læser, der trænger til et roligt og eftertænksomt øjeblik med en smuk lille perle.
Sådan starter den: I wanted to find my own way, so this morning I persuaded my father to let me travel alone from his apartment in Kobe to my grandfather's beach house in Tarumi.
4 af 5 stjerner
It's harder than I imagined, to be alone. I suppose I might get used to it, like an empty canvas you slowly begin to fill.
Stephen, en ung kinesisk mand, er under 2. Verdenskrig hårdt ramt af Tuberkulose og rejser alene til familiens sommerhus i Japan. Her lever han et stille liv langt fra krig, familie og venner. Det eneste selskab han har er den tavse Matsu, der passer huset og haven. Langsomt opbygges et smukt venskab mellem de to mænd.
Matsu scared away most people with his aloofness, but I was something more. He seemed to have a story no one had bothered to discover.
Matsu tager Stephen med til en lille by, der er gemt væk i bjergene. Her er et lille samfund med spedalske, bl.a. den smukke og tilbagetrukne Sachi, der mangler en del af sit ansigt. Hun gemmer sig fra omverdenen, og bevæger sig sjældent ud af sit hus og sin stenhave. Langsomt åbner hun sig op for Stephen og vi hører hendes fascinerende historie.
There's something more serious about the fall than any other season. Maybe it's the light that gradually grows darker, making everything seem less trivial, forcing you to look harder to find your way.
'The Samurai's Garden' er en af de smukkeste bøger jeg længe har læst. Helt igennem eventyrlig. Det er en spændende fortællingen, selvom den giver sig god tid på sine 211 sider. Den er dyb, eftertænksom, trist og smuk fortælling om venskab, kærlighed og skønhed. Det er sådan en historie, der sætter sig i sjælen.
Sproget er malende, og matcher smukt romanens temaer og historie. De nærmest poetiske beskrivelser af de to haver vi befinder os i får det til at stå knivskarpt for det indre øje.
Matsu's garden whispers at you, never shouts; it leads you down a path hoping for more, as if everything is seen, yet hidden. There's a quiet beauty here I only hope I can capture on canvas.