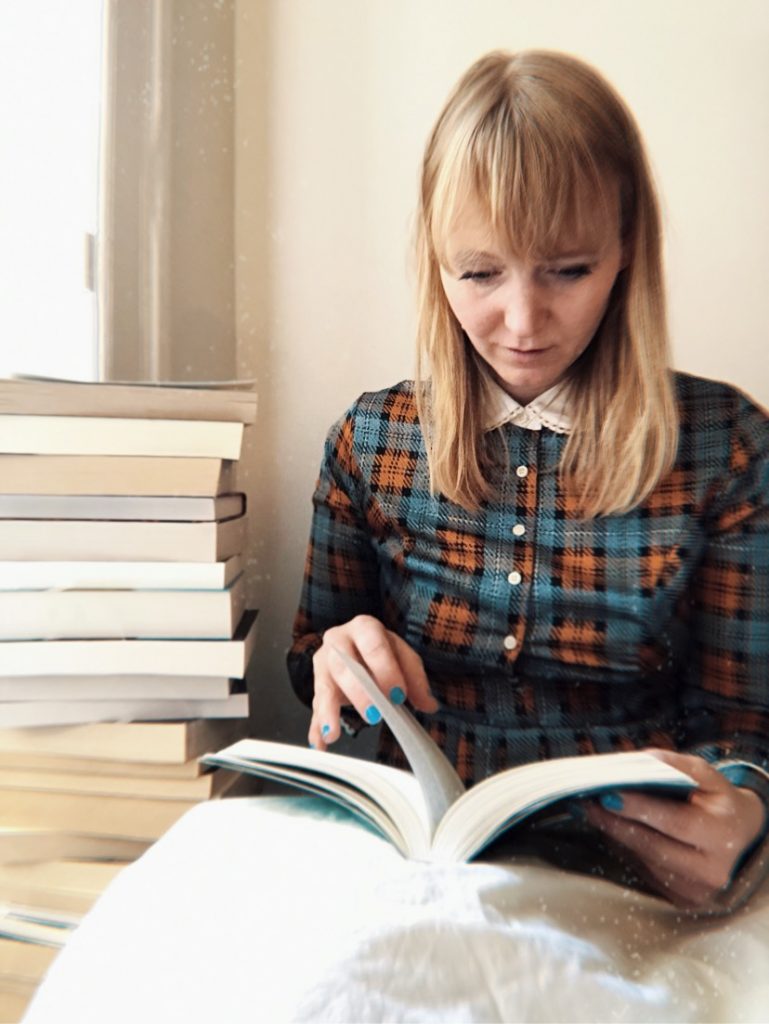 Hvordan får du tid til at læse så meget?
Det er et spørgsmål jeg hører ret tit. Og svaret er egentlig ganske simpelt: jeg prioriterer det. Og så kan jeg faktisk ikke lade være. Den følelse det giver mig at læse en bog jeg virkelig er grebet af, er noget af det bedste jeg ved.
Jeg har tidligere skrevet nogle råd til, hvordan man som forælder kan finde tid til læsning i en hverdag med et lille barn. Men måske er det på tide med nogle generelle råd til at få læsning ind i hverdagen. De kommer her:
Tips til at læse mere:
Læsning før Netflix
Det her er nok det vigtigste råd. Forstå mig ret; jeg elsker Netflix/HBO-aftener og vil aldrig foreslå, at du dropper det (med mindre du gerne vil). Jeg har dog et lille men effektivt trick; når alle dagens pligter er overstået og du er parate til at synke ned i sofaen og binge, så udskyd skærmen i 30 minutter. Aftal med dig selv / din partner, at der først tændes om 30 minutter, og læs indtil da. Det er noget vi tit gør. Nogle gange tænder vi som aftalt efter 30 minutter. Ofte går der en time. Andre gange finder vi os bare så godt til rette med bøgerne, at vi aldrig får tændt for skærmen. Alle tre scenarier er fine.
Lyt til lydbøger
Lydbøger kan på mirakuløs vis gøre alle sure pligter til den rene fornøjelse: at lægge tøj sammen, støvsuge, cykle i regnvejr kan pludselig blive spændende og hyggelig kvalitetstid
Læs kun det du har lyst til
Bevares; nogle gange skal man tvinge sig selv ud af sin komfortzone, men det skal helst være lysten, der driver værket. Om det er krimi, chick lit eller endnu en Jane Austen genlæsning, der får dig til at glæde dig til læsetiden, så hold fast i det. Så kan du prøve noget nyt når lysten melder sig.
Lær at slå op
If it doesn't spark joy get rid of it. Det er OK at droppe en bog, der bare ikke fanger dig. Glædeløs tvangslæsning kan ødelægge læseglæden. Og læseglæden er vigtig.
Træn din hjerne til læsning
"Jeg er bare for træt om aftenen til at læse" hører jeg tit folk sige. Sagen er den, at vores hjerne kan godt lide at gøre det den er vandt til. Så hvis du er vandt til at se TV men sjældent læser, er det TV din hjerne kalder på, når du er træt. Hvis du er vandt til at læse, vil det være læsning din hjerne hungrer efter.
Book læsetid i kalenderen
Planlæg en aften uden planer og lær at sige fra. Den læseaftale du har med dig selv er vigtig. Jeg sørger altid for at have mange aftener i løbet af ugen uden aftaler. Og når jeg ikke skal hente i børnehaven, nyder jeg at tage på café og læse. Jeg planlægger det, booker det og glæder mig til det.
Jeg håber, at du kan bruge bare et af disse tips til noget – jeg synes selv, at det første er ret genialt.
Har du nogle tips til at få læst mere?