I needed lessons in love. I still do because nothing could be simpler, nothing could be harder, than love.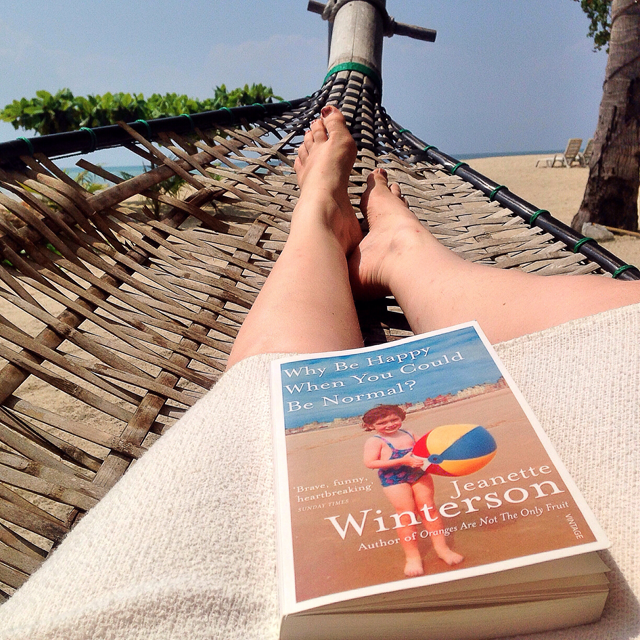 Title: Why Be Happy When You Could Be Normal?
Author: Jeanette Winterson
First Published: 2011
My Rating: 5 of 5 stars (average rating on Goodreads: 3.89)
I would recommend this book to: Jeanette Winterson fans
The Beginning: When my mother was angry with me, which was often, she said, 'The Devil led us to the wrong crib'.
In 1985, Jeanette Winterson published her debut; the semi-autobiographical and downright amazing Oranges are not the Only Fruit. I read it about 10 years ago for a literature class and loved it to pieces. It's an incredible story. A little girl grows up in a Christian house with a strict matriarch and an almost invisible father. It's a very unloving household. Books are not allowed and children are punished for sins they don't understand. Our heroine is meant to be a Missionary. Instead she's a book-loving lesbian. At the age of 16, she's kicked out. Her mother has already burned all her books.
I asked my mother why we couldn't have books and she said 'The trouble with a book is that you never know what's in it until it's too late.'
I thought to myself, 'Too late for what?'
I began to read books in secret – there was no other way – and every time I opened the pages, I wondered if this time it would be too late; a final draught (draft) that would change me forever, like Alice's bottle, like the tremendous potion in Dr Jekyll and Mr Hyde.
In Why Be Happy When You Could Be Normal? (her mother's parting words), Jeanette Winterson re-tells the story. She compares her story to Oranges, gives us extra details, her own thoughts on what happened and why. What surprised me was that even though the novel was heart-breaking, the real story was worse (in a good way). It was lonely and brutal and so utterly without the literary magic Winterson had inflicted upon the novel. She did that on purpose: she tells that the naked truth was too painful to write about, so she wrote things up a bit.
It was an amazing read, though, and an absolute must for anyone who has read Oranges. Yes, it re-tells some parts of Oranges, but it offers so much more. Not only do we get a huge amount of details that weren't included in Oranges, we also get to read more about what happens after the novel ends, how this horrifying beginning affects Winterson's life.
… another presence is hard for me. I wish it were not so, because I would really like to live with someone I love.
I just don't think I know how to do that.
I laughed and cried throughout this book. It's one of those rare treasures that takes you be the hand and leads you through both emotions again and again. I laughed a lot. I paused a lot to ponder what I had read. I interrupted Mr. Boyfriend to tell him what I'd just read. And I cried. In public. On the plane home from Bangkok. Right when they started serving dinner. So embarrassing.