We cling to our fairy tales until the price for believing in them becomes too high.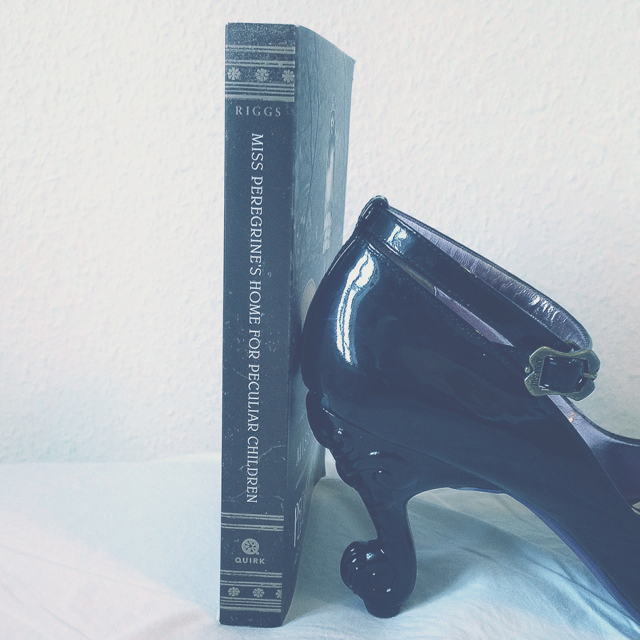 Title: Miss Peregrine's Home for Peculiar Children
Author: Ransom Riggs
First Published: 2011
My Rating: 3 of 5 stars (average rating on Goodreads: 3.79)
I would recommend this book to: Anyone looking for a different fantasy novel.
The Beginning: I had just come to accept that my life would be ordinary when extraordinary things began to happen.
Peter Pan meets Alice in Wonderland. That's how I would describe Miss Peregrine's Home for Peculiar Children. An old man has told his grandson amazing stories about an island and an orphanage with peculiar children. As the grandson, Jacob, grows up, he stops believing the stories. But when the grandfather dies, Jacob realizes that maybe the stories were real, maybe his grandfather was murdered and that Jacob himself may be in danger. What else is there to do but go to the island and search for the orphanage? Down he jumps into the rabbit hole and stumbles into a twisted Neverland.
I loved the creativity of this novel. The idea of the orphanage and the strange children were fascinating and brilliantly supported by the images in the book. But still, I was left somewhat disappointed. I expected more from this idea. The novel took a long time to get to the fun part (i.e. the island), and when it finally got there, it leapt almost immediately into battle. I wanted to stay on the island, learn more about the peculiar children, and learn more about their strange existence. But instead I was thrown into a looong battle with a monster.
It wasn't the creepy read I'd hoped it would be. I felt cheated. The cover and the photographs promised me sleepless nights, but I slept like a baby. It's a shame, because the story had such potential. If only Ransom Riggs had paid more attention to the details and not rushed things.
Another thing that really bothered me was the love story. It was downright weird! Incestuously weird. And none of the characters had conflicting emotions about it. Weird!
The writing was fine, but it never really took me into the souls of the characters.