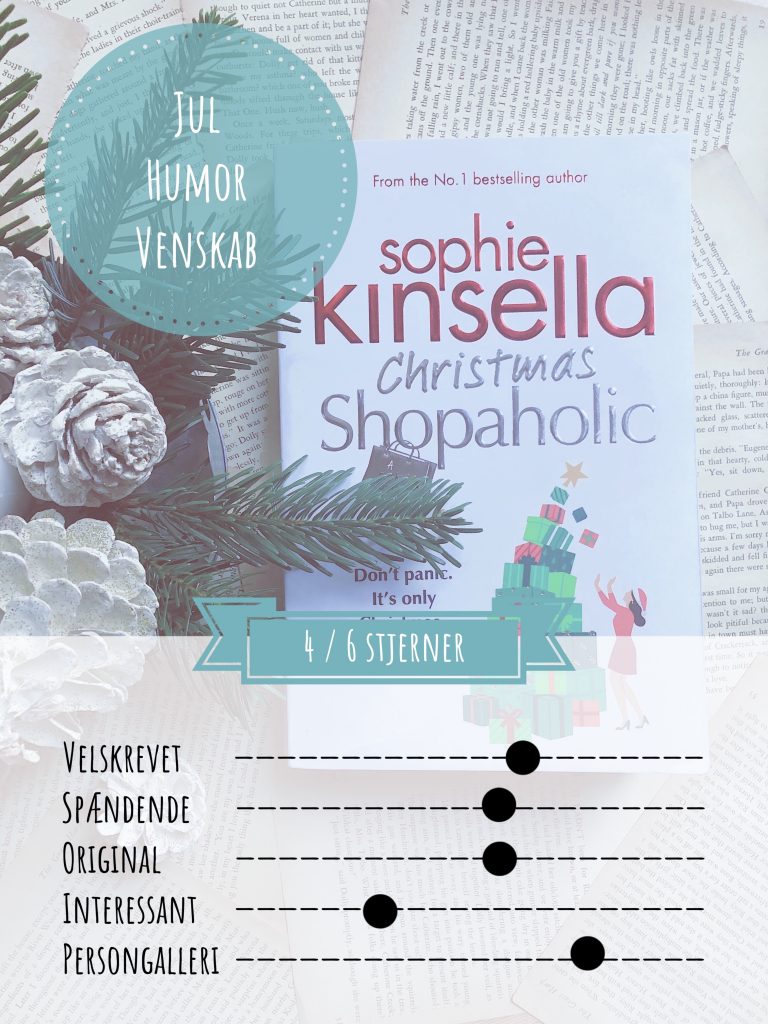 Titel: Christamas Shopaholic (på dansk: En Shopaholics jul)
Forfatter: Sophie Kinsella
Sådan blev bogen min: Jeg har købt bogen.
Jeg var egentlig stået af på denne serie, men da jeg så, der kom en jule-Shopaholic var jeg nødt til at klikke den hjem lige med det samme. En juleudgave af Becky ligger lige til højrebenet og det er ufatteligt, at den først kommer nu.
Om serien: til jer da ikke kender Shopaholic-serien: det er en humoristisk og hjertefuld serie om Becky, der er afhængig af at shoppe. Der er 9 bøger i serien, men man behøver ikke læse dem i rækkefølge. Selvfølgelig kan man blive spoilet, hvis man starter med en af de senere bøger, men det gør ikke det store for læseoplevelsen. Bøgerne starter ofte med en kort opsummering, så alle er med. Desuden er plottet sjældent af den komplicerede art.
I Christamas Shopaholic har vi den Becky tilbage som vi alle elsker: hun er lige så fjollet, kærlig, omsorgsfuld, halv-dum, sød og kreativ som hun plejer at være. Hun er kort sagt bedårende – og holder 100 % i juleudgave. Becky skal for første gang stå for at holde jul for hele familien. Som alle har forskellige behov og ønsker. Ikke godt for en kvinde, der i forvejen har svært ved at begrænse sig.
Vi får fornøjelsen af Becky og hendes juleforberedelser i løbet af november og december på jagt efter den perfekte julegave til Luke (nej, den sædvanlige after shave er ikke god nok), en vegansk kalkun g et bæredygtigt juletræ – for at nævne bare en brøkdel.
Bogen er fyldt med hjertevarm humor. Becky gør de mest vanvittige ting for at gøre sin familie og venner glade. Om det så betyder, at hun på få sekunder skal opfinde udtrykket sprygge (det nye hygge) eller holde en spontan tale for ældre mænd om ligestilling i billiardklubber.
Ja, nogle gange bliver hun for meget. Men Christamas Shopaholic fik mig til at grine højt flere gange – og gav mig en uventet tåre i øjet til sidst. Og vigtigst af alt: den fik mig i julestemning. For min skyld kunne der godt komme en Christamas Shopaholic hver jul.
Christmas isn't about finger-painting. It's about sitting on the sofa, eating Quality Street and watching Christmas specials on TV while the dads try to find batteries for all the new toys and break half of them and the children end up crying. That's tradition.