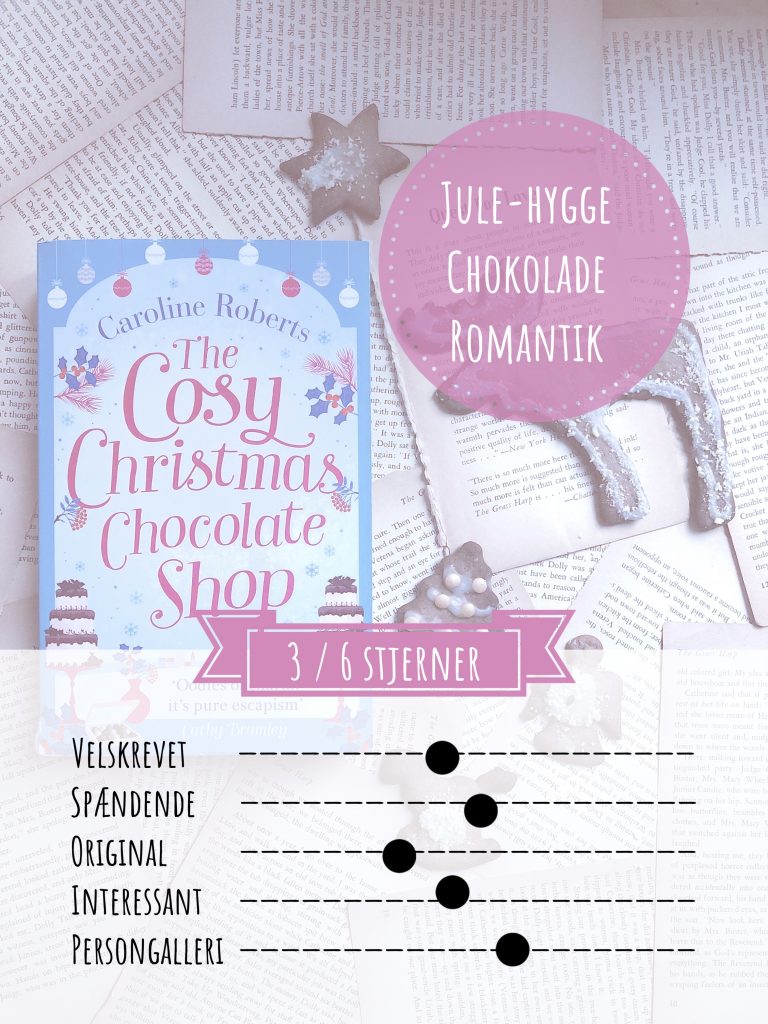 Titel: The Cosy Christmas Chocolate Shop
Forfatter: Caroline Roberts
Sådan blev bogen min: Jeg har købt den
Emma ejer en bedårende chokoladebutik ved en kyst et sted i England. Ved juletid skruer hendes udlejer gevaldigt op for huslejen, og Emma må tænke kreativt for at have råd til at beholde sin elskede butik. Heldigvis bakker lokalsamfundet op om Emma og hjælper hvor de kan.
The Cosy Christmas Chocolate Shop er hyggelig julelæsning, der er så sukkersød, at det hviner i tænderne. Jeg var lige ved at lægge bogen fra mig i starten, men jeg blev alligevel grebet af julestemningen og Emmas drømme om sin skønne butik. Og jeg kom faktisk i julestemning af at læse den.
It was now officially the season for hot chocolate with whipped cream and a chocolate flake.
Selvom jeg endte med at nyde bogen, har den masser af fejl; plottet er tyndt, den romantiske historie fesen, og bogen er aaaalt for lang. Min udgave er på 409 sider, men kunne nemt have været skåret ned til 300.
Men det var nu alligevel en hyggelig julelæsning – som fik mine tænder til at løbe i vand efter fyldte chokolader og varm kakao med flødeskum.