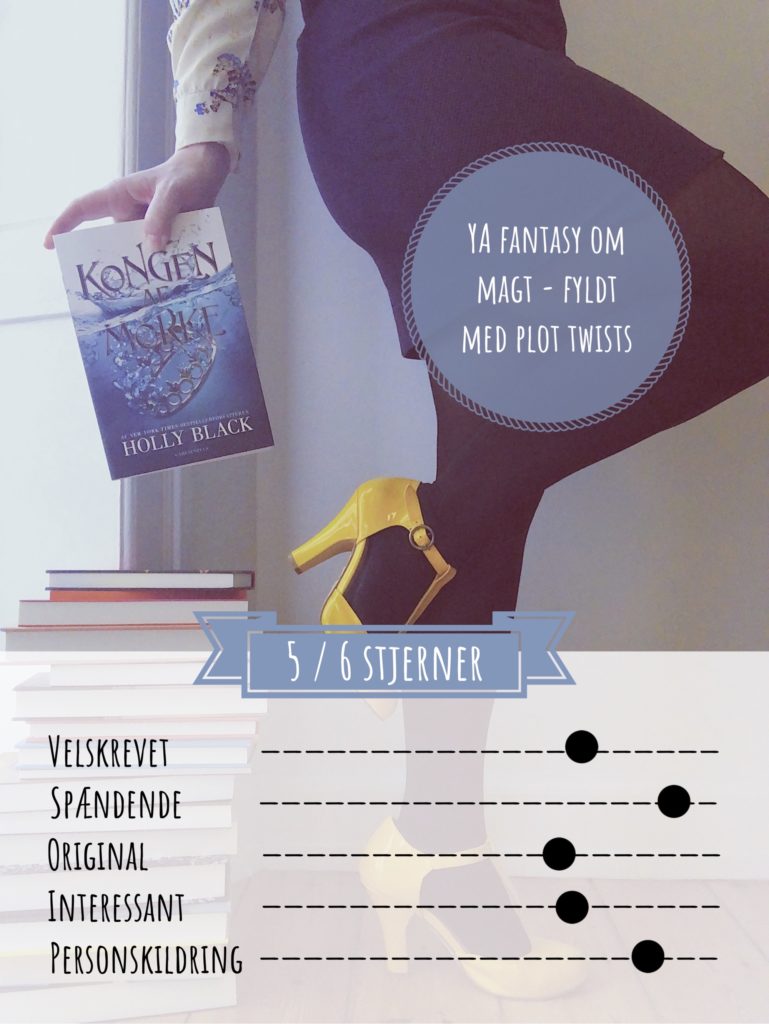 Titel: Kongen af mørke (Folk of the air #2)
Forfatter: Holly Black
Sådan blev bogen min: Anmeldereksemplar fra CarlsenPuls
Advarsel: indeholder spoilers til Prinsen af ondskab.
I Kongen af mørke har vi glæden af at betragte Jude forsøge at håndtere og beholde den magt hun snød sig til i Prinsen af ondskab. Judes had/begær-forhold til Cardan og hendes misundelses/kærlighedsforhold til søsteren gør det ikke lettere for hende.
Hvor var det skønt at være tilbage i Folk of the air's bedrageriske univers. Jeg havde glemt hvor ondskabsfulde og dragende de her karakterer er. Jeg elsker, at man ikke kan stole på nogen – ikke engang vores hovedperson.
Der er noget forfriskende over denne serie. Det er helt klart de komplekse og drilske Slytherin-agtige karakterer, der driver værket. Jeg elsker, at Jude ikke er beskeden og underdanig, men brændende ønsker sig magt og hævn over dem, der har hånet hende livet igennem.
Det er sådan her magt føles, ren, uhæmmet magt. Det er fantastisk.
Forholdet imellem Jude og de andre karakterer er virkelig vellykket. Jeg elsker hendes forhold til tvillingesøsteren og den jalousi der blev plantet imellem dem i Prinsen af ondskab. Mest af alt drages jeg af forholdet imellem Jude og Cardan – men jeg er også en sucker for enemies-to-lovers konceptet.
Desværre er oversættelsen sjusket – det virker som om det er gået lidt for hurtigt. Den er sådan set oversat fint nok, men der er en del bøffer hist og her som burde være fanget ved en korrekturlæsning. Det forstyrrede lidt læseoplevelsen. Øv.
Du kan forresten høre lidt mere om bogen og hvordan det var for mig at læse den lige her: