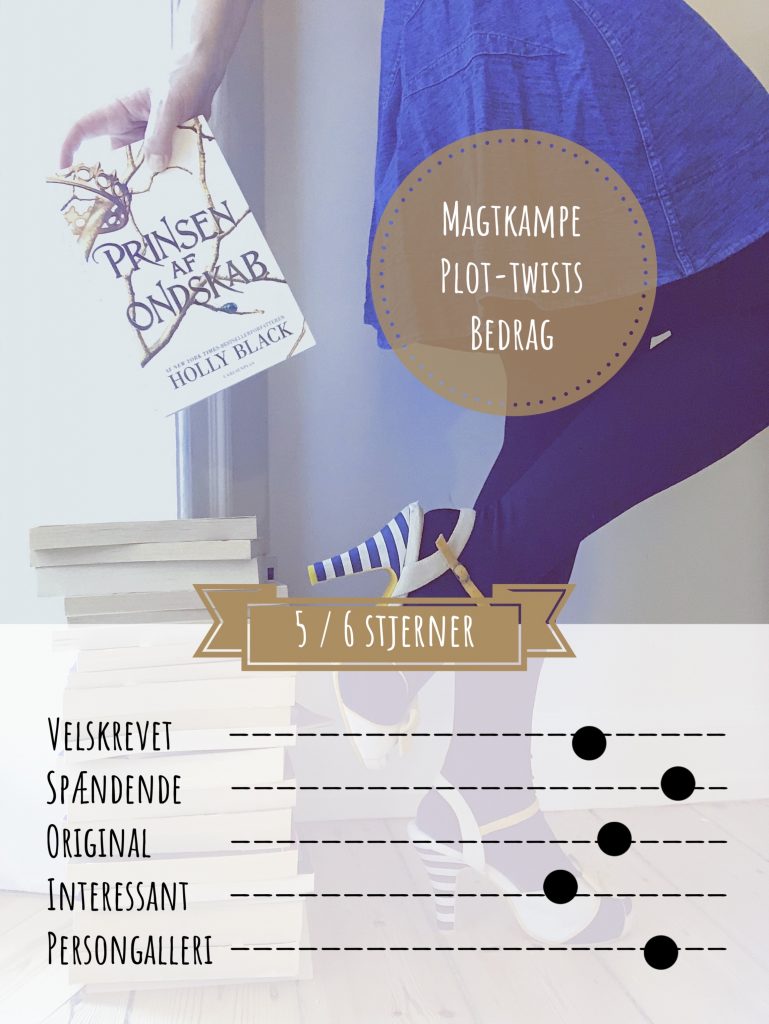 Game of thrones møder Jane Austen i en spændende fantasy fyldt med plottwists og Slytherin-karakterer.
Titel: Prinsen af ondskab (Folk of the air 1)
Forfatter: Holly Black
Sådan blev bogen min: anmeldereksemplar fra CarlsenPuls
Jude bliver som barn bortført til en eventyrverden, hvor hun vokser op blandt smukke og magtsyge feer. Som menneske er hun offer for feernes ondskabsfuldheder og føler hun sig altid ringere end dem. Men Jude drømmer om at blive til noget i denne mystiske verden: hun vil ikke bare være lige så god som dem, hun vil være bedre end dem.
LÆS: uddrag af bogen
Jeg kan ikke benægte, at de også er smukke. De ligner fornemme adelsfolk fra feernes gamle sange. Hvis vi ikke var nødt til at gå i skole med dem, og hvis jeg ikke personligt havde oplevet, hvilken plage de kunne være over for folk, de ikke syntes om, ville jeg sikkert være lige så forelsket i den som alle andre.
Hold nu op, en god fantasy! Der er mange ting jeg er vild med i denne historie, men det der bærer den og løfter den op på er andet niveau er karaktererne: de er alle komplekse og magtsyge og spiller spillet med deres helt egen agenda. Fordelingshatten ville have placeret dem alle i Slytherin, hvor de kunne boltre sig i magtkampe og stikke hinanden i ryggen.
LÆS: 5 tips til at overleve i Holly Blacks elver-verden
Jeg elskede også vores hovedperson, Jude. Hun er et frisk pust på heltindefronten: hun er ambitiøs og længes efter magt og anerkendelse i en verden, der betragter hende som udskud. Men hun er også en teenager med hormoner ud over det hele. Og hun begår fejl. Alvorlige fejl med store konsekvenser.
De bedrageriske karakterer er med til at gøre plottet spændende og interessant – og fyldt med plot twists. Selvom jeg havde læst bogen før og kunne huske handlingen i store træk, var jeg alligevel hooked: jeg havde hele tiden lyst til at læse videre. Og det sjove er, at jeg faktisk bedre kunne lide bogen anden gang jeg læste den. Men det hænger måske sammen med, at jeg læste den på e-bog og med flere pauser første gang, hvilket i høj grad påvirkede læseoplevelsen.