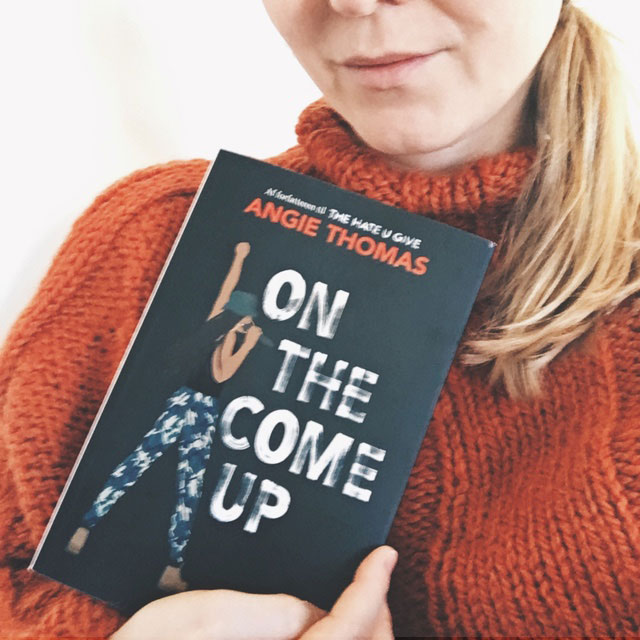 Man siger tit, at det er nemt nok for en forfatter at skrive én god roman; det svære at skrive to. Det er den svære toer: det er her, det bliver afgjort, om forfatteren har nok i sig til et langt forfatterskab.
Derfor var det også med en hvis nervøsitet i kroppen, at jeg vendte den første side i Angie Thomas' nye roman On the Come Up. For et års tid siden læste jeg hendes bestseller The Hate U Give og elskede den. Ud over at være draget af THUGs sprog, univers og plot, følte jeg, at jeg lærte noget; jeg var ikke den samme bagefter.
On the Come Up foregår i samme hood som THUG, dog et lille stykke tid efter. Vi følger Bri, hvis drøm er at blive en stor rapper. Hun lever i skyggen af sin legendariske far, der døde kort før hans gennembrud. Bri brænder for rap, hun er en killer i battle-ringen og kan slå de fleste. Samtidig håber hun på, at rappen kan blive hendes families redning: hendes mor har mistet sit arbejde, de kan ikke betale deres regninger og frygter at blive sat på gaden.
Det var fascinerende og skræmmende at læse så hudløst ærligt om fattigdom og den frygt, desperation og skam det medfører. Om de fordomme Bri og hendes familie møder. Ligesom THUG, er On the Come Up en lærerig roman, der suger én ind i en realistisk historie, der kan rykke fordomme og fremme forståelse og empati.
Min eneste anke er, at den ind imellem bliver lidt for 'happy go lucky' midt i den ellers så hadcore realisme. Det er måske en meget amerikansk tilgang til historiefortælling; "vi skal runde af med håb og lys, ellers bliver læseren for ked af det". Jeg ville ønske, at historien havde været mere hård.
Alt i alt er jeg imponeret, taknemmelig og hooked på mere Angie Thomas: hun har med On the Come Up slået sig fast som en forfatter, der nu har fået mit sjældne anerkendelses-badge: en forfatter jeg vil læse ALT af. Og helst lige med det samme det udkommer. Gør dig selv den tjeneste at læse denne fantastiske bog.