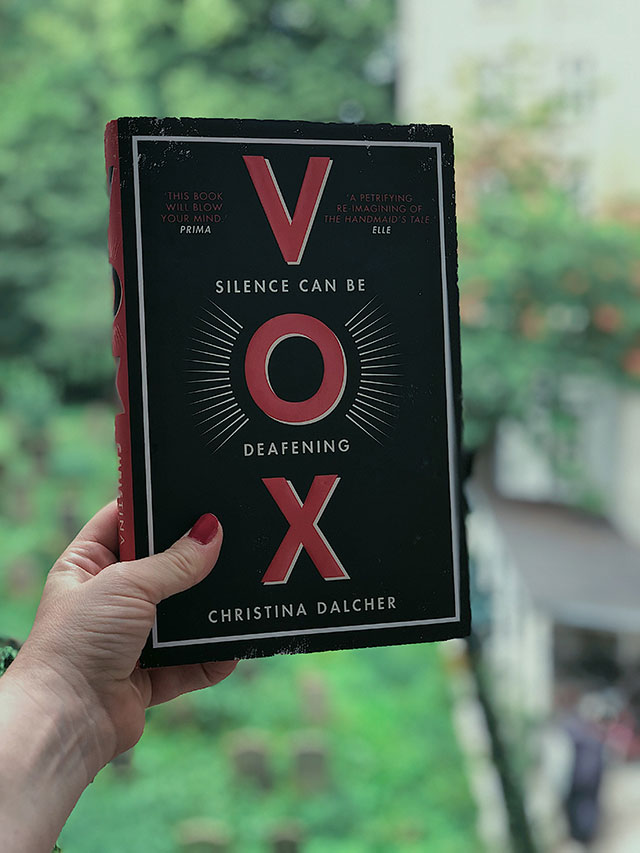 Titel: Vox
Forfatter: Christina Dalcher
Sådan blev bogen min: Jeg fik den i julegave
En udmærket feministisk dystopia – fx til dig, der kan lide 'The Handmaid's Tale'
Vox er en dystopisk fortælling om en fremtid, hvor kvinder ikke bare er sendt tilbage til kødgryderne, de har også fået rationeret deres sprog til 100 ord om dagen.
Think about waking up one morning and finding you don't have a voice in anything.
Min forventning: jeg havde ikke så høje forventninger, da jeg synes, at konceptet lød en anelse skørt. Men jeg havde lyst til at give bogen en chance, da Louise O'Neill (forfatter til Hun bad selv om det, Skabt for dig og The surface breaks) anbefalede den på bogforum sidste år.
Jeg blev heldigvis positivt overrasket. Vox er godt skruet sammen. Den fik mig til at føle ting jeg ikke lige var forberedt på. Det Christina Dalcher gør så godt, er at hun giver læseren den frustrerende følelse det er ikke at kunne udtrykke sig. Det er en yderst klaustrofobisk følelse. Prøv at forestille dig at være ved at eksplodere af rasende og ikke være i stand til at udtrykke sit raseri?
I've grown used to defiance in small forms
Det kunne jeg bedst lide: Vox er meget stærk i sin skildring af hovedpersonen som mor og giver stof til eftertanke: hvordan håndterer man, at ens søn vokser op med et kvindeundertrykkende syn på vores verden? Og man ikke har ord til at opdrage ham? Og hvad gør man, når ens datter vokser op som undertrykt og ikke kender til andet? Og man ikke har ord til at opbygge hendes selvtillid? Det var stærkt fremstillet og meget tankevækkende,
Det kunne jeg ikke lide: I starten følte jeg, at romanen var meget todimensionel og tegnede et for negativt billede af mænd (på grænsen til det mandehadende), men den forestilling får vi ikke lov til at beholde: karaktererne trækker nogle overraskelser ud af ærmerne og vi får ikke lov til at opfatte dem helt så todimensionelle. Og mere kan jeg ikke sige uden at spoile.

Slutningen virkede for mig desuden lidt rodet og forhastet.