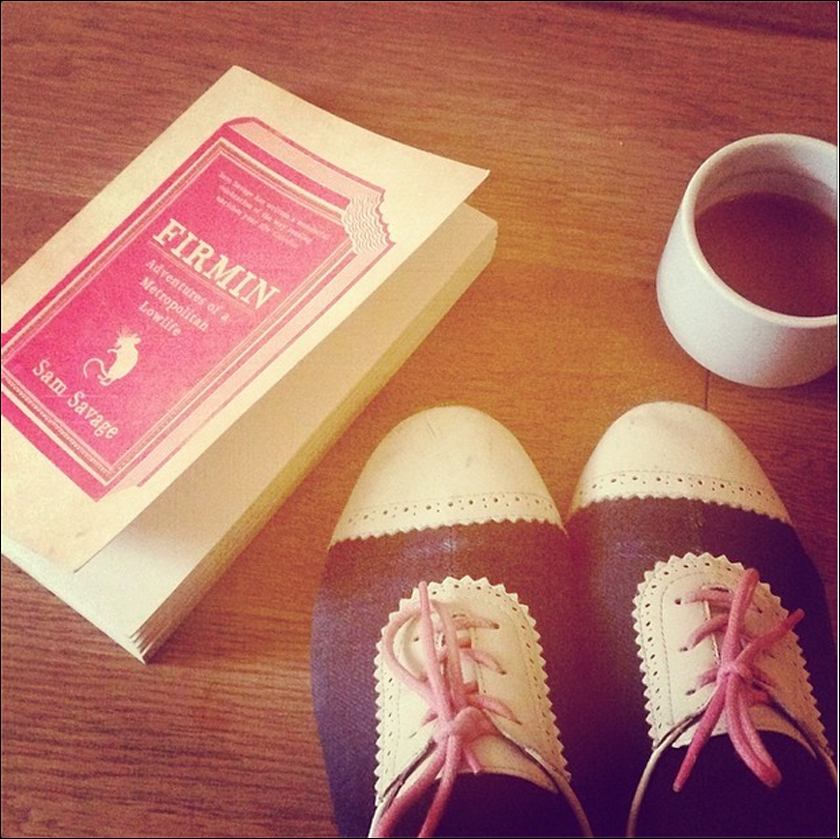 Title: Firmin – Adventures Of A Metropolitan Lowlife
Author: Sam Savage
First Published: 2006
My Rating: 4 of 5 stars (average rating on Goodreads: 3:45)
Shoes: Lola Ramona
I would recommend this book to: Readers who enjoy books about books. And rats.
The Beginning: I had always imagined that my life story, if and when I wrote it, would have a great first line.
What a pleasant surprise this book turned out to be! It was an adorable read and a wonderful companion on my trip to London. We follow the rat, Firmin, who lives in a bookshop and develops a taste for books. Literally! He reads and eats books:
I had discovered a remarkable relation, a kind of preestablished harmony, between the taste and the literary quality of a book. To know if something was worth reading, I had only to nibble a portion of the printed area.
It's a universal story about loneliness, friendship and the love of literature, but it's wrapped in originality. I fell for Firmin (try saying that five times fast!) and his story. Firmin is a classic tale of wishing to be someone else. Firmin wants to be beautiful and smart. He wants people to take him seriously, to consider him human. He always imagines himself as a human, trying to copy what he sees in movies and read in books. I particularly loved the scene where he plays the piano for the human he lives with:
… sitting on the bench, swaying to the music, I looked exactly like Fred Astaire, and I sang like him too. Sure, I knew that this was true only from a certain perspective, and that all Jerry heard was a high ratlike squeak. But he loved it just the same. The first time I played and sang for him he laughed till tears ran down his cheeks.
I reacted just the same way and Firmn would have hated it. But I couldn't help it. I never thought a rat would touch my heart. But there's a true bookworm for you: throw in some books and I'm your bitch.
Lives in stories have direction and meaning. Even stupid, meaningless lives, like Lenny's in "Of Mice and Men," Acquire through their places in a story at least the dignity and meaning of being Stupid, Meaningless Lives, the consolation of being exemplars of something. In real life you do not get even that.