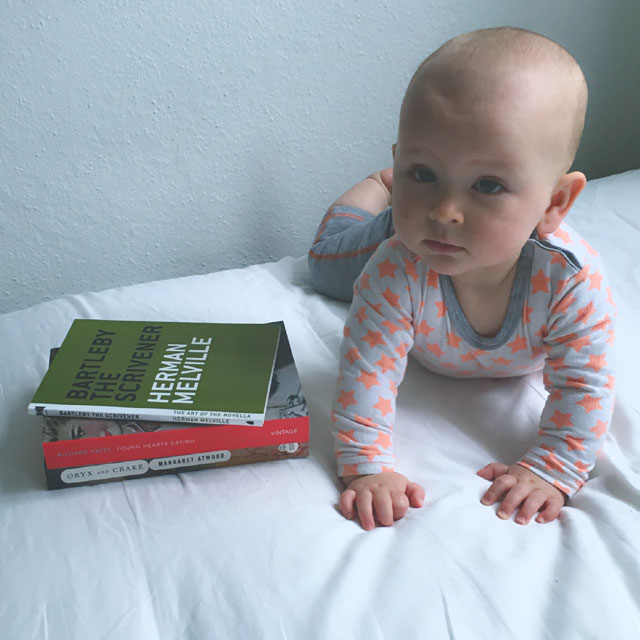 Juni har været en lidt alternativ læsemåned for mig. Udover at passe mit afkom, har jeg været distraheret af mit nye strikkeprojekt samt de nye afsnit af 'Game of Thrones' og 'Orange is the New Black'. Jeg har dog også fået læst lidt; udover lydbøger, er jeg 273 sider inde i krabaten 'Byen Brænder' (som Lindhardt og Ringhof var så søde at sende til mig – tak!). Jeg nyder at læse i mobbedrengen, men det kommer nok til at tage min nogle måneder mere at komme igennem den. Men det er også helt fint – den er fremragende selskab. E-bøger er lagt på hylden igen – de var gode, da jeg ammede 15-30 minutter ad gangen. Nu tager det omkring 5 minutter, så skal den lille frøken videre i programmet.
I juni læste jeg: 3 bøger og en sjat 'Byen Brænder'. Helt exceptionelt har de 3 færdiglæste været lydbøger, og to af dem (Bartleby og 'Oryx and Crake') har været genlæsninger. Den sidste lydbog, som jeg blev færdig med i går, er 'Young Hearts Crying' af Yates. Som titlen hinter, ikke det mest opmuntrende læsning, men fremragende udført.
Bedste læseoplevelse: Det er svært at vælge mellem Bartleby og 'Oryx and Crake' … jeg lader det stå uafgjort.
Mest skuffende læseoplevelse: Ingen! Efter sidste måneds halvlunkne læseoplevelser, kan jeg med glæde berette, at alle 3 bøger har været en fornøjelse.
Længste bog: Yates' 'Young Hearts Crying' (422 sider – eller 12 timer og 33 minutter)
Nye bøger: En enkelt fin lille bog om Bowie som var en gave fra Forlaget Klim. Mange tak 🙂
Mest læste blogindlæg: Min anmeldelse af Calendar Girl. Skægt som virkelig negative anmeldelser ofte er populære 😀 Men det er vel også en bog som man enten elsker eller hader.
Nu skal jeg læse: Jeg fortsætter med 'Byen Brænder', men kunne også godt tænke mig at gå i gang med min Bowie-bog. Især fordi Bowie ofte nævnes i 'Byen Brænder' kunne det være sjovt at læse dem sideløbende. Jeg har endnu ikke besluttet mig for en lydbog … nogle forslag? Og hvad skal du til at læse?
---
English Recap
I've read 3 books this month, all on audio. I liked all three, and two of them were rereads. I'm currently reading 'City on Fire' and it will probably take me a few months to finish – which is OK because I love it! Have you read any good books this June? And what are you looking forward to reading in July?