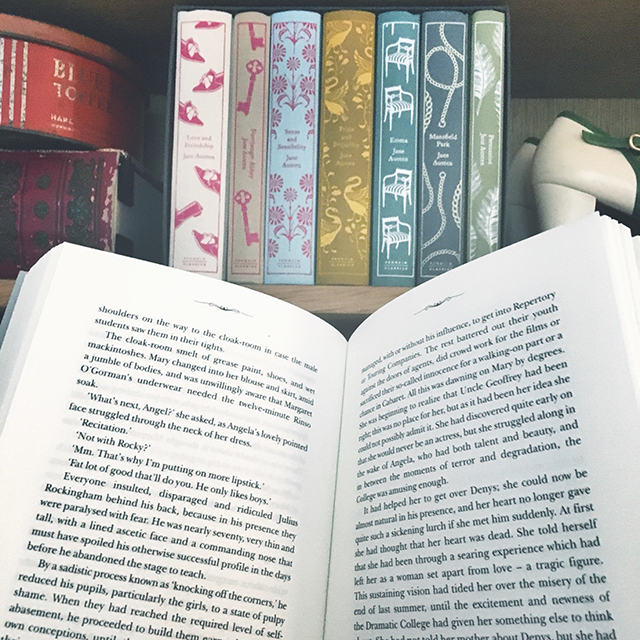 Jeg har hapset dette bogtag fra Pernilles skønne blog: Bare et kapitel mere. Tagget går ud på at gøre status over sin læsning halvvejs gennem året. Hvorfor det hedder 'freak out' må du ikke spørge mig om 😉
Men først lige lidt læsestatus: jeg har so far læst 27 bøger i år og er 5 bøger foran i min læseudfordring på Goodreads. Det havde jeg sgu ikke lige forventet når man tænker på den kaotiske og travle start på året vi havde med flytning etc.
Men nu til spørgsmålene:
#1: Best book you've read so far in 2018
Den feministiske genfortælling af 'Den Lille Havfrue' i The Surface Breaks af Louise O'Neill var en helt perfekt blanding af dragende fantasy og hardcore (og relevant) realisme.

#2: Best sequel you've read so far in 2018
Jeg kom endelig i gang med Golden Son – 2eren i Red Rising sagaen. Det var skønt at komme tilbage til det univers, selvom jeg havde lidt udfordringer med at holde styr på det enorme karaktergalleri.
#3: New release you haven't read yet, but want to
Åh, der er mange! Fx Den der lever stille af Leonora Christina Skov som jeg glæder mig afsindigt til at læse med min bogklub. Og den anmelderroste Små Påsatte Brande af Celeste Ng som jeg gemmer til hypen er dalet lidt (jeg kan godt lide at være lidt fashionable late med mine anmeldelser)
#4: Most anticipated release for the second half of the year
Jeg er meget spændt på Angie Thomas' On the Come Up; jeg elskede The Hate U Give og er så spændt på at se, hvordan hendes næste roman bliver.
#5: Biggest disappointment
Smukke og dragende The Midnight Dance med det fantastiske koncept var et usammenhængende gigantisk flop. Føler mig stadig snydt. Er der ikke en, der kan stjæle konceptet og skrive den bog ordentligt?
#6: Biggest surprise
Jeg blev meget positivt overrasket over Rynkekneppesygen. Jeg havde forventet en syret læseoplevelse. Det fik jeg også, men jeg fik så meget andet med i købet også. Det er længe siden, at jeg har grint så meget over en bog.
#7: Favourite new author (Debut or new to you)
Louise O'Neill (Hun Bad Selv om det + The Surface Breaks) er min nye 'OMG jeg skal læse alt hvad hun har skrevet'-forfatter
#8: Newest fictional crush
Jeg har ikke crushet på nogen som helst i år. Øv! Mit liv føles underligt tomt …
#9: Newest favourite character
Jules fra Ud af Ensomheden gav mig så mange 'det er jo præcis sådan jeg har det'-oplevelser. Selvom mit liv på ingen måde minder om hans, satte han så fint ord på mange følelser jeg selv har haft (og aldrig rigtig har kunne sætte ord på).
#10: Book that made you cry
Ud af ensomheden fik mig til at ugly-græde i stor stil. Shit, den gjorde ondt.
#11: Book that made you happy
Jeg hyggede mig med Fordelen ved Hemmelige Forelskelser af Becky Albertally. En skøn feel-good roman.
#12: Favourite book to film adaptation you saw this year
Jeg ser desværre næsten aldrig film mere. Men jeg elsker TV serien 'The Handmaid's Tale' som gør romanen stor ære.
#13: Favourite review you've written this year
Jeg er selv ret glad for min anmeldelse af Godnathistorier for Rebelske Piger.
#14: Most beautiful book you've bought so far this year (or received)
The Surface Breaks og The Midnight Dance er helt klart de smukkeste bøger.
#15: What books do you need to read by the end of the year
Det vil tage mig flere timer at besvare dette spørgsmål!
Jeg tagger alle, der selv har lyst til at besvare tagget – det er så hyggeligt at læse med 🙂