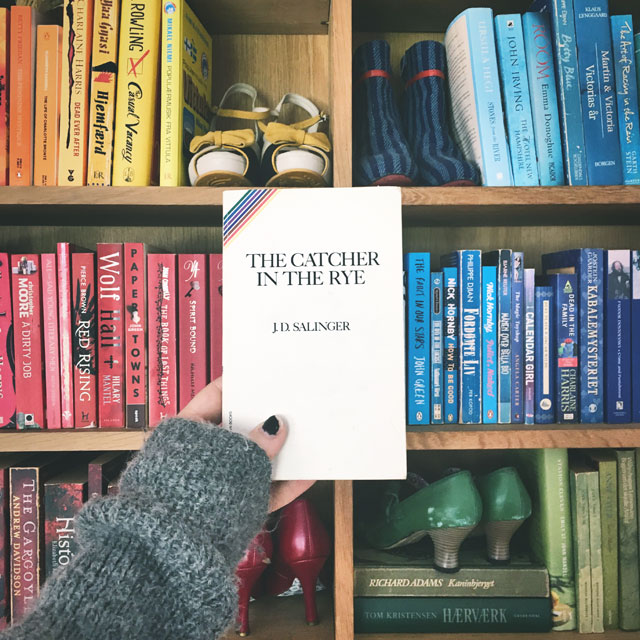 Titel: The Catcher in the Rye
Forfatter: J.D. Salinger
Først udgivet: 1951
Jeg vil anbefale bogen til: Alle, der har prøvet at være en sur teenager. Og til dig, der kan elsker 'The Bell Jar'.
Sådan starter den: If you really want to hear about, the first thing you'll probably want to know is where I was born, and what my lousy childhood was like, and how my parents were occupied and all before they had me, and all that David Copperfield kind of crap, but I don't feel like going into it if you want to know the truth.
5 af 5 stjerner
16-årige Holden Caulfield er blevet smidt ud af skolen kort før juleferien. Han kan ikke overskue at tage hjem til sine forældre, så i stedet flakker han rundt i New York i tre dage. Han opsøger gamle bekendte, hænger ud i barer og fortæller løgnhistorier. Desperat forsøger han at skabe en forbindelse til andre mennesker, men møder kun 'phonies' – overfladiske og falske mennesker, der aldrig vil kunne forstå ham.
Grand. There's a word I really hate. It's a phony. I could puke every time I hear it.
'The Catcher in the Rye' er en klassiker, der ofte deler vandene: man enten elsker eller hader den. Jeg elsker den med stort E. Og den holder også anden og, som nu, tredje gang. Holden Caulfield er min yndlings sure teenager. Hans observation og kommentering af verden omkring ham er humoristisk og spot-on; Salinger formår at ramme den rebelske teenage verden-er-åndsvag-og-der-er-ingen-der-forstår-mig sindstilstand. Og så er den ufattelig velskrevet.
Or you'd just passed by one of those puddles in the street with gasoline rainbows in them. I mean you'd be different in some way—I can't explain what I mean. And even if I could, I'm not sure I'd feel like it.
På overfladen er Holden en forkælet og sur møg-unge. Men under overfladen er han en ensom ung mand i dyb krise og sorg over sin brors død. Han er desperat efter at opleve en ægte forbindelse med andre mennesker, men samtidig rædselsslagen for at blive skuffet. De mennesker han prøver at komme tæt på, er mennesker han på forhånd ved vil skuffe ham: en prostitueret, en overfladisk pige han engang har været ude med, en gammel bekendt som han aldrig har brudt sig om. Men pigen, der virkelig betyder noget for ham, tør han ikke ringe til. Han tænker på det igen og igen, men finder altid en undskyldning.
Just because somebody's dead, you don't just stop liking them-especially if they were about a thousand times nicer than the people you know that're alive and all.
Kun i sin lillesøster kan han finde den barnlige uskyld, der ser ham som han er og kan give ham noget, der føles ægte. 'The Catcher in the Rye' er en af de få bøger, der kan være trist, smuk og hylende morsom på én og samme gang. Jeg griner hver gang jeg læser den. Og hver gang får jeg lyst til at give Holden et kæmpe knus. Og derefter stikke ham en flad. Og måske herefter introducere ham for Ether Greenwood fra The Bell Jar? Og håbe, at hun gider høre på hans shit.
What really knocks me out is a book that, when you're all done reading it, you wish the author that wrote it was a terrific friend of yours and you could call him up on the phone whenever you felt like it. That doesn't happen much, though.
Jeg hørte 'Catcher in the Rye' som lydbog (på YouTube lige her) sammen med Mr. Boyfriend. Her er hans mening: man er ikke i vivl om, at forfatteren forstå sin hovedperson fuldstændigt. Den er ikke demonstrativt samfundskritisk eller provokerende: den er ægte!
5 af 5 stjerner
PS: her er en sjov quiz, hvor citater fra Catcher er blandet med Lana Del Rey-sange, hvor man så skal gætte, hvor de hører til.