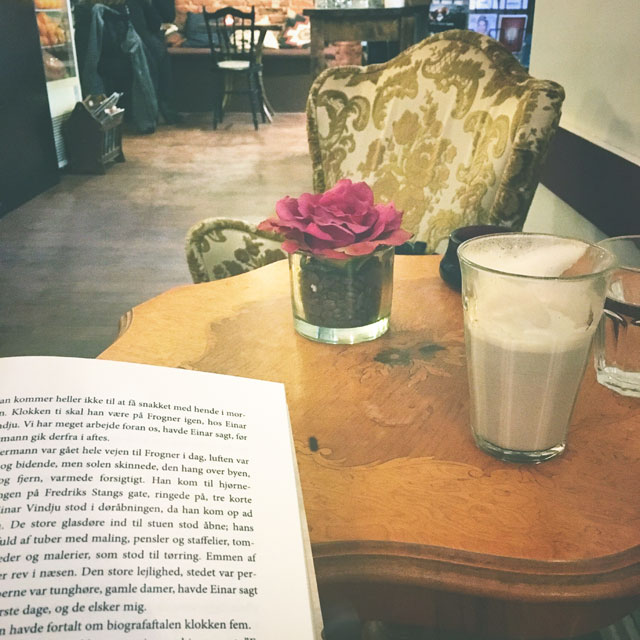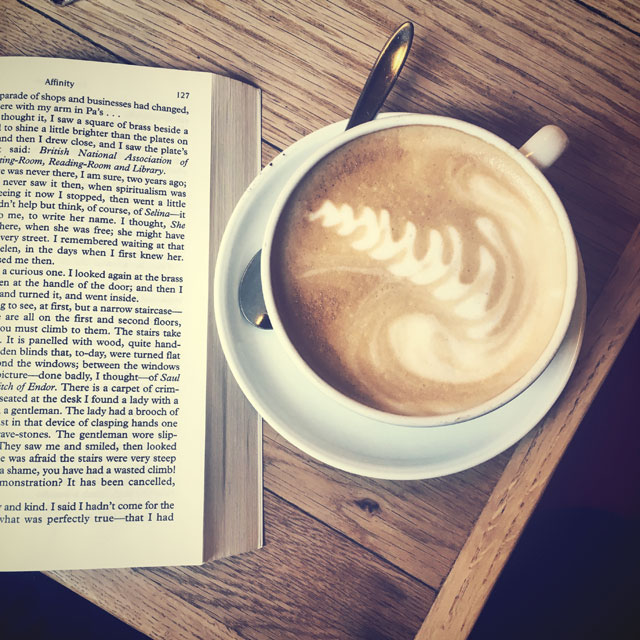 Bente fra Trolderier har været så sød at tagge mig til at svare på en række spørgsmål om bøger. Jeg ved ikke noget bedre end læse/blogge-tags, så lad os se at komme i gang!
1. Har du et bestemt sted til at læse derhjemme?
Mit yndlings læsested er sofaen i køkkenet. Med snacks og kaffe. Det er dog sjældent jeg har den luksus i dag. Nu læser jeg mest i sengen om morgenen fra kl. 5:30-6:00 mens Edith ser Baby Einstein på min telefon. En gang i mellem når Edith bliver hentet af andre, sniger jeg mig på café og læser.
2. Bogmærke eller et random stykke papir?
Bogmærke – har så mange fra bl.a. The Book Depository.
3. Kan du bare stoppe med at læse, eller bliver du nødt til at vente til et nyt kapitel / du har læst et bestemt antal sider?
Som om jeg selv kan bestemme det 😉
4. Spiser eller drikker du, når du læser?
JA! Har altid gang i enten te eller kaffe når jeg læser.
5. Multitasking: Musik eller TV mens du læser?
Nej, aldrig. Men jeg kan godt lide at strikke mens jeg lytter til lydbøger.
6. Én bog ad gangen eller flere på samme tid?
Jeg har altid gang i 3-4 bøger ad gangen. En fysisk bog, en lydbog for mig selv, en lydbog med kæresten og nogle gange også en e-bog på telefonen (det er meget smart at have ved hånden, når man skal putte en ballademager)
7. Kun læse hjemme eller alle steder?
Alle steder. ALLE!
8. Højtlæsning eller stille læsning i dit hoved?
Mest stille læsning, men jeg nyder at læse højt for mig selv ind i mellem, hvis det er særligt velskrevet.
9. Læser du forud eller springer sider over?
Ingen af delene, men jeg kan godt finde på at skimme sider, hvis der er dele af en bog, der ikke interesserer mig.
10. Knække ryggen eller beholde bøgerne som nye?
Jeg mishandler desværre mine bøger på det groveste. Har dem med i tasken, krøller dem sammen, afsætter chokoladefingre – you name it!
11. Skriver du i dine bøger?
Hvis jeg har behov for det. Fandt for nylig et telefonnummer i en laset udgave af The Bell Jar – det fik vi en del morskab ud af i min bogklub.
12. Hvem tagger du?
Jeg tagger Lisbeth fra Moonlit Madness og Kathrine fra Bibliotekattens Bøger – jeg håber, at I vil være med 🙂