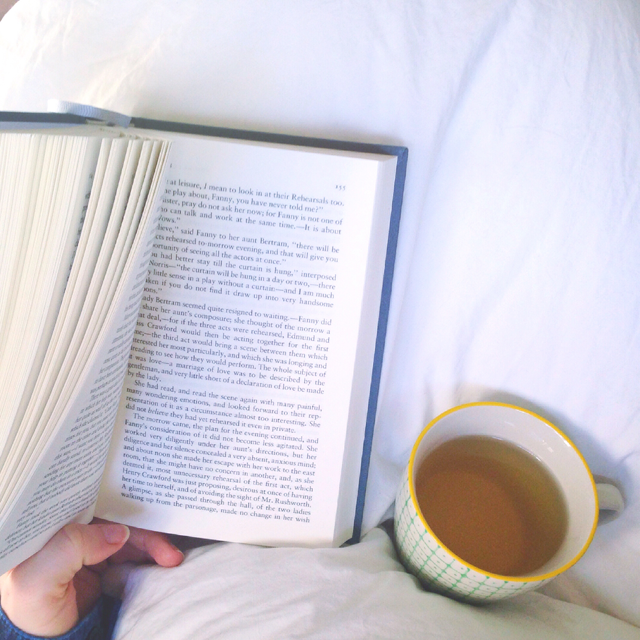 It's been difficult for me lately to find the time to sit down and really concentrate on a book. I've been focusing on other things lately – like writing book reviews, which I haven't done a lot for the past month or so. I've written two book reviews this past week (here and here) and I still got three books waiting to be reviewed. I'm currently reading Jane Austen's Mansfield Park – a leftover from the Readathon. I'm enjoying it and don't mind taking my time with this one. But I'm going to London in about a week and a half, and would like to have finished it by then as it's too heavy to take with me. At my current reading pace, I'm not going to make it, though. I could really do with another readathon 😀
I've been very preoccupied with audio books lately. I'm listening to Dracula with Mr. Boyfriend. It's my second time and his first, and we both LOVE it! We had three nights in a row where we listened for hours. It's SO good! We take the duvet into the kitchen (yes, we have a couch in the kitchen) and our cat, Wilcox, comes running immediately to curl up with us. Mr. Boyfriend draws while listening to the story and I knit. This has been one of my favorite activities lately.
I'm also listening to an audio book by myself: The Other Boleyn Girl by Philippa Gregory. It's very entertaining … but also a bit silly … Still, I got a thing for Tudor Court novels. I reviewed the first in the series here and a modern version of Anne Boleyn here.
What are you currently reading?