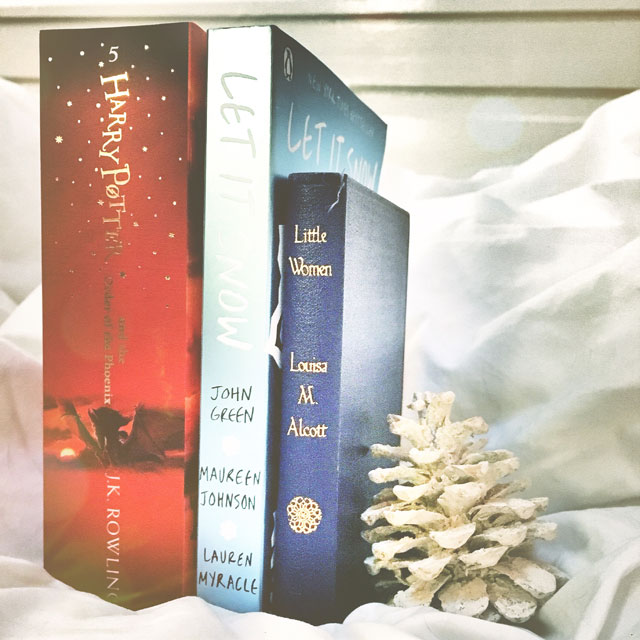 Jeg elsker elsker ELSKER december. Jeg elsker, at der er pyntet op på gaderne (det er så fedt at bo i byen!), at man godt må spise småkager hele tiden, og at der er flotte lys over det hele. Mit arbejde er også mere magisk i december. Vi har nisseleg, juletræsfest hvor ens børn kan møde julemanden (som faktisk er den rigtige julemand) og et juletræ, der hedder Torben, som giver gaver hver dag. Her hjemme har jeg pyntet min bogreol, Edith har lagt beslag på juletræet, jeg har tændt lys i mine bedsteforældres julekirke og benytter enhver lejlighed til at sætte en af mine mange jule-playlister på.
Det inviterer til hyggelig og magisk læsning … her er de bøger jeg skal hygge mig med i december:
Let it Snow: er tre julehistorier af John Green, Maureen Johnson og Lauren Myracle. Jeg skal læse den med nogle Goodreads-venner og glæder mig til en ægte julebog. Mine forventninger er dog ikke så høje, da den har fået blandede anmeldelser.
Little Women: En klassiker som emmer af julestemning, selvom det egentlig ikke er en julebog. Jeg er faktisk allerede tyvstartet med den på lydbog, og nyder dens langsomme tempo.
A Court of Mist and Fury: Fortsættelsen til ACOTAR. Den har intet med jul at gøre, men jeg er SÅ grebet af den, og har et boy-crush jeg lige skal se, hvad ender med.
Harry Potter and the Order of the Phoenix (5'eren, hvis du skulle være i tvivl): Det er blevet en tradition, at jeg læser en Harry Potter hver december. Traditionen startede, da Edith blev født og jeg slet ikke kunne være i mig selv pga. hormoner, kolik og fødselsreaktion. Harry Potter hjalp mig med at finde ro og tryghed. Jeg har aldrig før (eller siden da) oplevet, at en bog kunne hjælpe mig på den måde, og jeg minder mig selv om det hver december.
Så mangler vi bare sne og juleferie. Og nogle flere timer i døgnet …
Hvad skal du læse i december? Og kan du anbefale mig nogle gode julebøger?