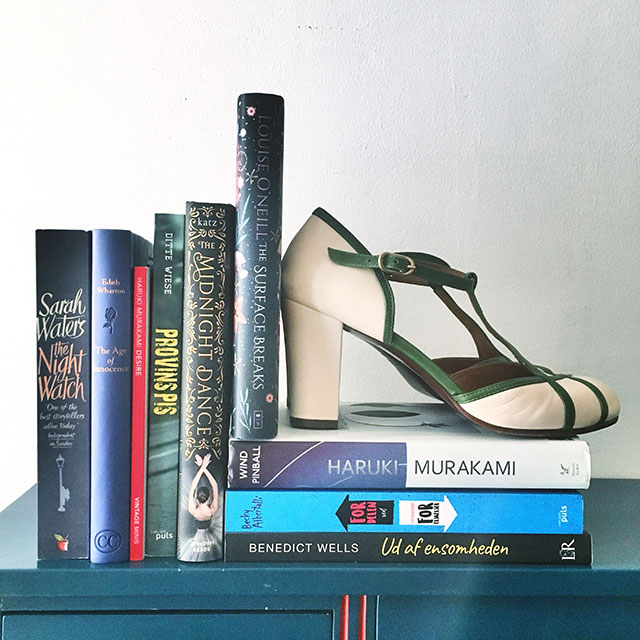 Mit forår har været omskifteligt og turbulent. Der har været flytte-kaos, renoverings-stress, sne, sommer, frygten for log-out, readathon, bogbloggerevent arrangeret af dygtige Julie the Book Cat og en masse bloggeri. Og så fik jeg lov til at møde Murakamis danske oversætter.
Jeg var i slutningen af vinteren/starten af foråret tvunget til at holde pause fra bloggen i ca. halvanden måned, og det var helt ubeskriveligt fedt at få tid til det igen. Måske er det egentlig meget sundt med blogge-pause. Jeg kom i hvert fald tilbage med fornyet energi og i flere uger havde jeg ikke lyst til andet end at blogge og tænke over koncepter til bloggen. Jeg satte mig for at undersøge hvem læserne på bloggen er, og blev både inspireret til nye måder at gøre tingene på og bekræftet i, at jeg havde gang i nogle fede koncepter.
Jeg har kigget tilbage på da bloggen også handlede om klædeskabet og fik en trang til at genindføre det – bare på en ny måde. Og så har jeg læst en masse bøger:
I foråret læste jeg: 12 bøger:
6 stjerner:
The Surface Breaks
5 stjerner:
Rynkekneppesygen
The Age of Innocence
4 stjerner:
Morning Star
The Night Watch
Provinspis
Desire
3 stjerner:
Til Døden os Skiller
2 stjerner:
The Midnight Dance
Sandcastle Empire
'Hun' & 'Ham'
A Court of Wings and Ruin
1 stjerne:
Ingen, heldigvis
Bedste læseoplevelse: Uden tvivl The Surface Breaks af Louise O'Neill. Det er en feministisk genfortælling af 'Den Lille Havfrue' – og den sparker røv!
Mest skuffende læseoplevelse: Jeg havde store forventninger til A Court of Wings and Ruin fordi jeg ELSKEDE 2eren. Men 3eren var dræbende kedelig og jeg måtte tvinge mig selv til at læse den færdig.
Bøger jeg opgav: The Wings of the Dove af Henry James. Jeg gik i gang med den på lydbog og den fangede mig slet ikke. Jeg glemte hele tiden at lytte ordentligt efter og følte mig ikke motiveret til at lytte videre.
Antal blogindlæg: 28 – ret godt sammenlignet med de 10 indlæg jeg udgav i løbet af vinteren.
Yndlings karakter: Ida fra Provinspis stjal mit hjerte. Det sjove er, at vi nok ikke ville kunne udstå hinanden IRL.
Hvilken af forårets bøger håber jeg at genlæse en dag? The Age of Innocence skal bare genlæses med jævne mellemrum. Det var tredje gang jeg læste den og absolut ikke sidste gang.
Hvilken bog havde det smukkeste cover? The Midnight Dance er bare så flot. Hvis den ikke havde været så flot, havde jeg kylet den ad helvedes til for længst. Den er virkelig dårlig. The Surface Breaks er også virkelig smuk – og historien holdt hele vejen igennem.
Hvilke nye forfattere har fanget min interesse: Louise O'Neill fangede min opmærksomhed med Hun Bad Selv Om Det, men med The Surface Breaks har hun slået sig fast som en forfatter jeg skal læse alt med. ALT!