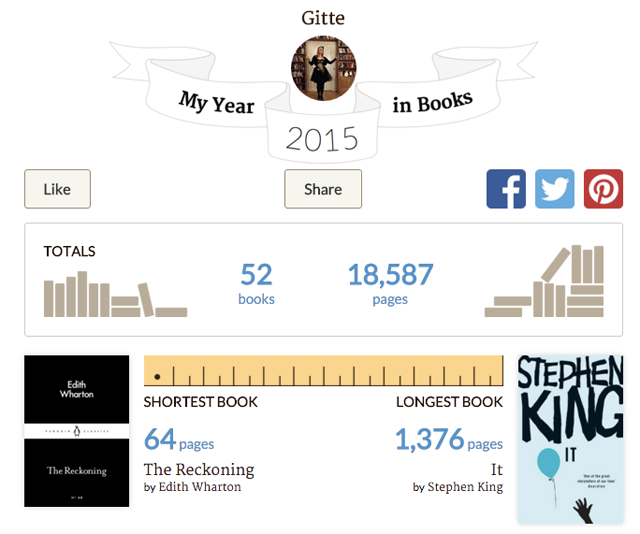 Happy New Year everybody! 2015 was a very good reading year for me. I challenged myself to read 50 books, but didn't think I would make it because I got pregnant. I thought that would mean about two months of absolutely no reading time. So I hurried up a bit, and when the baby arrived (almost two weeks late which meant extra reading time), I had a few tricks up my sleeve and found some precious reading moments. I thereby surpassed my challenge and ended up reading 52 books. Goodreads rewarded my with a nice badge and told me that I was good at reading:

Out of the 52 books, six managed to reach a special place in my heart. Books that put a smile on my face whenever I see them on my shelf, books that I want everyone to read because they're so freakin awesome! So here they are, in random order, the best reading experiences of 2015:
The Buried Giant
Kazuo Ishiguro's new novel is beautiful. A thrilling dystopia, stunning writing and fascinating characters with a heart-breaking ending. A must-read for anyone who wants a dystopian novel for grown-ups.
Read my review.
Why Be Happy When You Could Be Normal?
Perhaps the most amazing read of 2015: Jeanette Winterson tells the story of how she grew up with a strict religious mother who wouldn't allow her to read, changed stories to fit her beliefs, burned all her books and kicked her out at the age of 16 because she refused to be 'normal'. 'Why be happy when you could be normal?' was her mother's parting words.
Read my review.
Station Eleven
Another absolutely brilliant dystopian novel that focus on the survivors several years after a flu has wiped out civilization, on how to find art and beauty in a world where survival is a struggle. It's a clever and well-written page-turner.
Read my review.
I Capture the Castle
Jane Austen meets Anne of Green Gables! This was a beautiful treat that I never wanted to end. Gorgeous writing and a lovely story – I wish I could read it again for the first time, I enjoyed it so much.
Read my review.
Memoirs of a Geisha
An excellent page-turner! Even though the novel has its flaws (esp. the ending), it's one of those stories where you want to keep reading and forget about the world. I highly recommend it to anyone who wants to disappear into an amazing story.
Read my review.
The Golem and the Jinni
Awesome novel! I was very much surprised by this strange modern fairy tale. It's been a long time since I've read anything this original and well-written. I'm so glad I read this one!
Review to follow …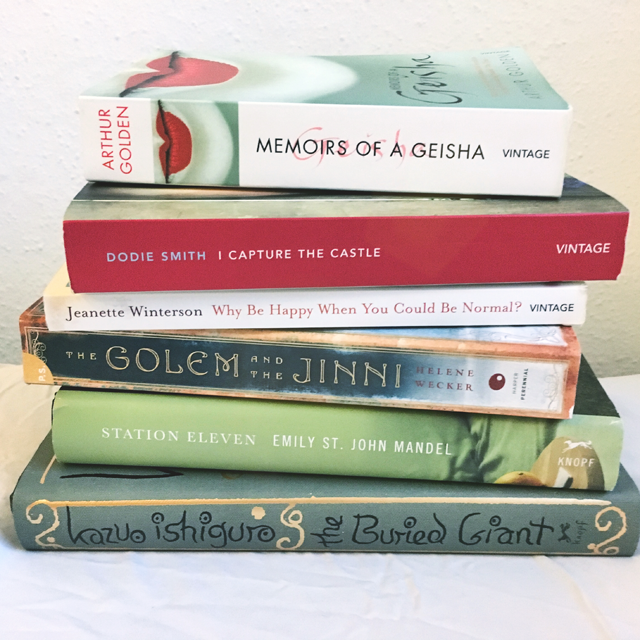 What were your best reading experiences from 2015?