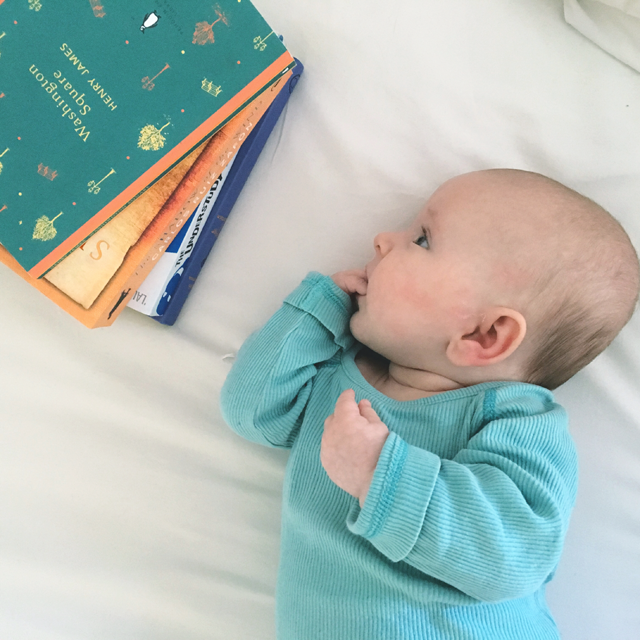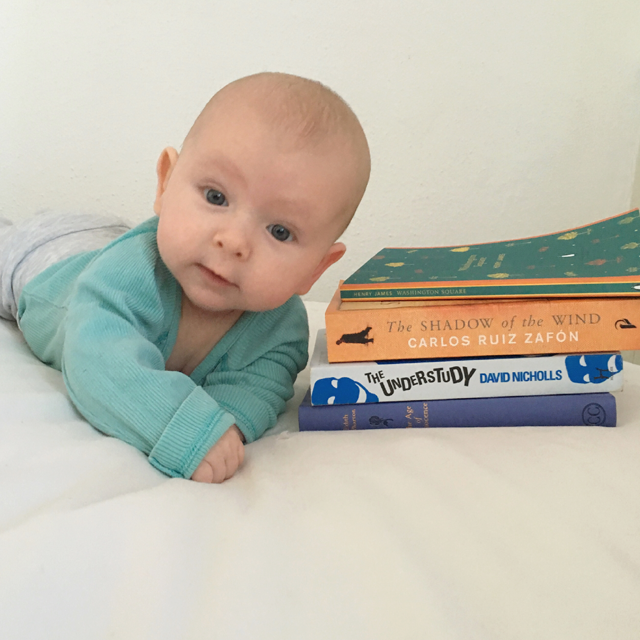 Is it just me or is Edith getting more and more adorable by each month? She's developed from a little piece of screaming meat to the most charming and easy-going baby. She still doesn't like to sleep during the day, but she often sleeps all night through. We've started to take her out a bit. We've been to birthday parties, at the cinema, to baby-yoga, and out for brunch – and she's been on her best behaviour (we're going to the cinema again today – I hope I didn't just jinx it!). I've been out a few times on my own as well. My workplace celebrated its 20 year anniversary and had a big party, which I was dying to attend. And I did! I put on makeup and a pretty dress, I had a nice dinner where I could use both hands, I had a few sips of wine, some virgin cocktails, and I danced and danced and danced. When I got home, Edith greeted me with a huge smile, and my heart melted a bit.
Bonus: she still allows me to read!
In February I read: 4 books: one e-book (The Understudy), one paperback ('Washington Square') and two audio books (The Age of Innocence and 'The Shadow of the Wind').
Best read: Definitely my reread of Edith Wharton's The Age of Innocence. I listened to the audio with Mr. Boyfriend so he would know a bit about the novel that inspired Edith's name.
Most disappointing read: The Shadow of the Wind. I started it a couple of years ago, but put it down. Afterwards, I've been reading so many positive reviews that I decided to give it another chance. Unfortunately it didn't rock my world at all.
Books bought: Zero – but I still got 6 new books.
In March I'll read: Hanya Yanagihara's A Little Life on audio and The Post-birthday World by Lionel Shriver on my kindle app. As a "real physical book", I'm just about to finish the Danish novel Hvor intet bryder vinden by Leonora Christina Skov. I'm not sure what I'll pick up afterwards – we'll see what I'm in the mood for.
In March I'll buy: The plan is to not buy any books this month – or until there's space available in my to-read shelf. I've got three shelves dedicated to TBR, and currently books are stacked next to it waiting for free space.
Reading challenge status: I've read 10 of 25 books, which means I'm 6 books ahead of my schedule.

How was your February? Did you read any good books?