Jeg kan godt lide enkle ord og en kompliceret verden.
– Haruki Murakami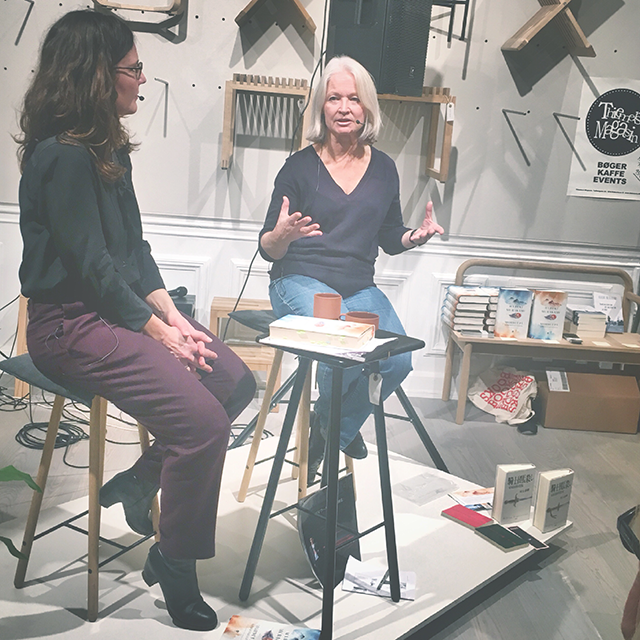 Min hverdag er meget rutinepræget: jeg går på arbejde, henter Edith, spiser aftensmad, putter Edith eller rydder op (vi skiftes) og herefter har jeg 1 – 1.5 time for mig selv til blog, læsning eller serie. Jeg elsker denne rutine. Men jeg elsker også at lave noget andet ind i mellem. Besøge en veninde, gå i biografen – eller deltage i et litterært event.
I tirsdags da Mr. Boyfriend kom hjem fra arbejde, tog jeg overtøjet på igen, sagde pænt farvel, og begav mig afsted til et litterært event jeg spontant havde tilmeldt mig et par dage forinden: Murakami aften med te fra Sing Tehus. Her fik vi forskellig slags te – bl.a. 'rigtig' matcha – og fik æren af at høre Murakamis danske oversætter, Mette Holm, fortælle om sin oversættelse af bind II i Mordet på Kommandanten (jeg har før hørt hende fortælle om bind I).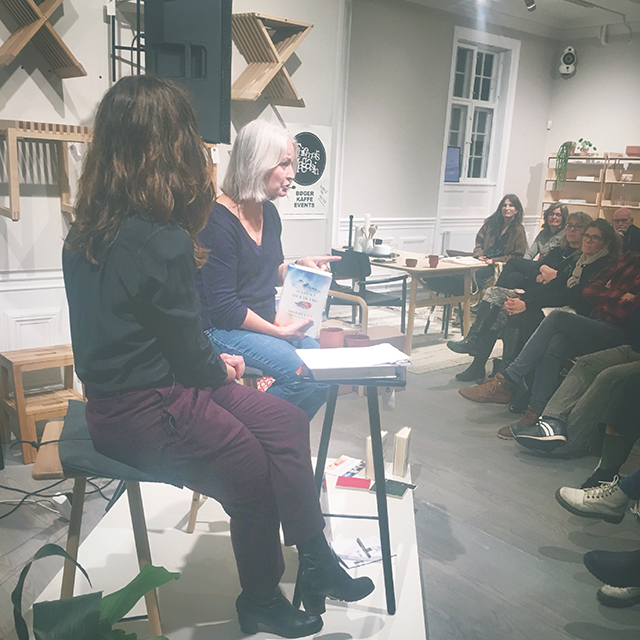 Her er nogle af de ting jeg tog med mig fra interviewet med Mette Holm:
Mordet på Kommandanten, bind II er mere hurtig og actionfyldt – det er næsten som at læse en krimi.
– Det kommer bag på mig, da bind I tog sig meget god tid.
Der er bedre sexscener i denne – bla. en ret sjov scene.
– det grinede jeg lidt over.
Mette Holm læser ikke bogen inden hun oversætter – det er delvist hendes motivation; nogle gange kan hun sidde til langt ud på natten og oversætte fordi hun gerne vil vide hvad der sker
– en sjov detalje – hvis det var mig tror jeg ikke, at jeg kunne lade være med at snyde-læse forud.
Murakami hjælper sine oversættere, svarer på spørgsmål via mail, men han opfordrer dem også tit til selv at bestemme, hvordan de vil tolke det han skriver.
– Mette Holm kom med mange eksempler, som gav mig endnu større respekt for Murakami og hans oversættere.
Hvis du vil vide mere om Murakami og Mette Holms arbejde med oversættelse, kan jeg anbefale filmen 'Dreaming Murakami' der kan streames gratis på Filmstriben.
Til sidst vil jeg dele mine anemldelser af Murakamis værker – hvis du skulle få mod på at læse noget af ham:
Mordet på Kommandanten, en idé viser sig (bind I)
Desire
Underground
South of the Border, West of the Sun
The Strange Library
Colorless Tsukuru Tazaki and his Years of Pilgrimage
1Q84
Wind/Pinball
En vild Fårejagt
Dans dans dans
Disclaimer: Mordet på Kommandanten, bind I og II er begge anmeldereksemplarer. Alle meninger og udtryk for begejstring kommer dog direkete fra mit hjerte.